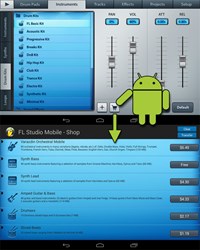 (PRWEB) February 08, 2014
FL Studio Mobile 1.3 for Android is now available from the Google Play Store. Version 1.3 is a no-cost update for existing customers and introduces the online shop where users can download new instruments. There are two unlocked instrument packs so users can try it out before buying anything.
What's new for the FL Studio Mobile Android 1.3 release?

In-app shop. 7 packs x 250 instruments, 2 are free
Bug fixes
What about iOS vs Android feature-set convergence?
Image-Line plans to add Audio Tracks and Wave Editor by April 2014. Customers are encouraged to use the FL Studio Mobile user forum to keep informed. They can use the SETUP tab and REGISTER button to get posting access to the forums. Following Audio Tracks, Image-Line will move to a completely new code-base merging FL Studio Mobile for iOS and Android, eliminating the feature-set differences. All these will be free updates as usual.
About FL Studio Mobile 1.3 for Android vs FL Studio Mobile 2.2 for iOS
The feature-set of the Android and iOS versions will be harmonized in future updates, including the addition of the following features to the Android version:

Audio tracks and wave editor
Background audio (playback while the app runs in the background)
MiniSynth
While projects, .flm format, are compatible between Android and iOS, if audio tracks are present they are ignored. If instruments are not available the MIDI data is loaded and the a default instrument is used.
Pricing
Android: $19.55 USD
iOS: FL Mobile HD (universal app): $19.99 USD
ABOUT IMAGE-LINE SOFTWARE
Established in 1994, Image Line Software provides high quality music applications to the computer-based music community and is well-known for its leading digital audio workstation FL Studio (formerly FruityLoops), FL Studio Mobile for Android and iOS; high-quality synthesizers including Autogun, DirectWave, Drumaxx, Groove Machine, Harmless, Harmor, Morphine, Ogun, Poizone, Sakura, Sawer, Slicex, Sytrus and Toxic Biohazard. Innovative effect plugins including Gross Beat, Hardcore, Maximus, PitCher & Vocodex; and finally, a wide range of sample libraries used in their multi-sampler plugins DirectWave and Soundfont Player. Image-Line also produces the acclaimed DJ mixing software application Deckadance. In addition to its audio software, Image Line Software develops and distributes the web site building application, EZGenerator.
For more information, please contact:
Scott Fisher, Communications Manager
Image Line Software
E-mail: press(at)image-line(dot)com