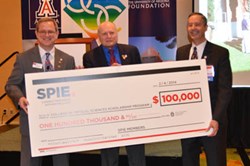 We see this as an investment in the future of optics and photonics.
San Francisco, California, USA (PRWEB) February 06, 2014
Fourteen new endowed graduate student scholarships were announced Tuesday 4 February in San Francisco by the University of Arizona College of Optical Sciences (OSC), the first to benefit from a 4-to-1 matching gift offer made by James Wyant. SPIE, the international society for optics and photonics, was among the 14 individuals and groups from throughout the OSC community who each donated at least $100,000 to enable newly created or existing endowments through the new FoTO (Friends of Tucson Optics) program.
With the matching program, donations of $100,000 meet the minimum $500,000 required for the endowment. The payout provides in perpetuity graduate student stipend support at about $20,000 annually, and the scholarships will also include graduate student tuition and fees donated by the university.
SPIE President Philip Stahl presented the society's donation at OSC 50th anniversary celebration held during SPIE Photonics West. Stahl noted the many connections between OSC alumni and faculty and SPIE membership, and stressed the society's delight in being able to support the college by enabling an endowed scholarship.
The FoTO program is the result of a $10 million gift from Wyant, Professor Emeritus and OSC founding director, said Thomas Koch, dean of OSC, in making the announcement. Wyant chose to increase the impact of his gift by structuring it as a matching program, he noted.
The gift from Wyant comes at a time when decreases in public funding for education have resulted in dramatically increased tuition costs. The FoTO scholarships will enable OSC to continue to attract top students, and are vital to the college's continued contributions to leading research new R&D partnerships, Koch said.
SPIE CEO Eugene Arthurs was among those on hand to personally thank Wyant, a Past President of SPIE, for his generosity. "SPIE is very much in support of education and we see this as an investment in the future of optics and photonics," Arthurs said. "Thank you for providing the opportunity to contribute in this very meaningful way."
Wyant is well-known throughout the optics industry for his academic and professional society leadership, profound expertise, and establishment of several commercial enterprises.
SPIE is expected to announce a name for its scholarship later this week.
The other 13 FoTO scholarships are funded by donations from:

John and Elizabeth Armstrong
Robert and Gwynne Edmund
Joseph and Hon Mai Goodman
John Hayes and Jane Quale
Lawrence and Nancy Johnson
Willis Lamb Jr.
Masud and Annegret Mansuripur
Sean McCafferty
Kenneth and Michele Moore
Jacobus (Jim) and Michelle Oschmann
Anne Palmer and Bruce Harker
Kevin and Jannick Rolland-Thompson
Murray and Kamela Sargent
Richard Shoemaker
William and Mary Lou Wolfe
James Wyant .
In addition, the college has received a commitment for a donation of $100,000 from the DeMund Foundation, and has three existing FoTO scholarships established with a lead gift of $25,000 from college alumnus Elroy Miller. Donations of any amount to this general fund will also be matched 4:1 from Wyant's offer.
About SPIE
SPIE is the international society for optics and photonics, a not-for-profit organization founded in 1955 to advance light-based technologies. The Society serves more than 256,000 constituents from approximately 155 countries, offering conferences, continuing education, books, journals, and a digital library in support of interdisciplinary information exchange, professional networking, and patent precedent. SPIE provided over $3.2 million in support of education and outreach programs in 2013.