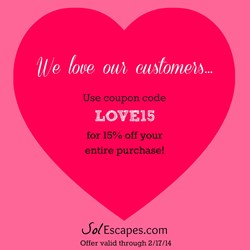 Valentine's Day shopping is made easier with SolEscapes' Valentine's Day Gift Shop and the LOVE15 coupon code.
San Francisco, California (PRWEB) February 07, 2014
To celebrate Valentine's Day, SolEscapes is offering 15% off on the entire purchase and has set up a beautifully pink Valentine's Day Gift Shop. Featuring a carefully curated selection of products in rosy shades of pink, the Valentine's Day Gift Shop is the place to find a present for a lover of the beach, resort holidays or cruise vacations.
A thoughtful gift for the lover of tropical locales can be as simple as packing up a beach bag. Start with a pink baby bogg bag, add a Travel Lux Microfiber Beach Towel in fuchsia pink, tuck in some pink Mother of Pearl Keikei's flip-flops, and top it off with a jaunty pink Jackie G fedora. This thoughtful gift will surely be appreciated by the receiver, may that be a spouse, sweetheart, mother or dear friend. Anyone who enjoys vacationing on a tropical island, cruising the Caribbean, or just relishes a weekend trip to the beach would love to receive it. Just as important, the giver will be pleased with the 15% off total purchase when the LOVE15 coupon code is used.
A classic approach to Valentine's gift giving is jewelry. Put a tropical twist on the timeless tradition by giving resort jewelry: jewelry that both evokes warm weather locales and is a perfect accessory to a vacation wardrobe. The Coco Cabana line of resort jewelry elegantly supports the pink theme with both a necklace and a bracelet. Since they're designed to mix and match, it's easy to work in additional pieces in other colors; white or gold make wonderful neutrals, while turquoise or yellow make a bold color statement.
Valentine's Day is the ideal time to show love to the cherished people in one's life. Making a Valentine's Day gift special by customizing it to their fondness for tropical escapes and beach holidays demonstrates extra care and thoughtfulness. Valentine's Day shopping is made easier with SolEscapes Valentine's Day Gift Shop and the LOVE15 coupon code. The sale is going on now through February 17th.
SolEscapes is a California-based online boutique offering a unique selection of stylish and practical sun, beach and resort essentials for all warm weather needs. SolEscapes offers personalized service, high quality products and fast affordable shipping. Merchandise including all beach hats is carefully and beautifully packaged to ensure a perfect arrival. For more information, please visit SolEscapes.com. You can also connect with SolEscapes on Facebook, Twitter and Pinterest.