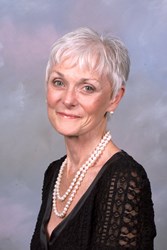 Our mission at GCF is to create opportunities for a better life. We do this in many, many ways. Speaking with our future women leaders is such an important part of this mission. - Linda McLain, GCF
Durham, NC (PRWEB) February 07, 2014
Linda McLain, executive vice president at Goodwill Community Foundation (GCF®), a Durham-based, tax-exempt organization dedicated to creating opportunities for a better life, believes we must inspire and empower the next generation of women leaders. This is exactly what McLain did at the recent Raleigh Durham 2014 Girls World Expo. She shared her story of meager beginnings, seemingly insurmountable hurdles and determination that led her to the work she does today – creating opportunities to help others have a better life.
McLain first spoke at the Girls of Merit brunch, which honored some of the most driven young ladies in the region. She also shared her inspiring story on the expo floor with nearly 5,000 11-to-18-year-old girls and their families.
McLain was a voice of inspiration. "I was honored to share my story with so many local girls," she says. "Our mission at GCF is to create opportunities for a better life. We do this in many, many ways. Speaking with our future women leaders is such an important part of this mission."
A number of women who lead programs at GCF also attended the expo to share information about opportunities to volunteer such as the GCF Farm program, Boys & Girls Clubs support across eastern NC and free learning opportunities at GCFLearnFree.org.
For more information about GCF, please visit http://www.gcfglobal.org.
About Goodwill Community Foundation (GCF®)
Goodwill Community Foundation (GCF®) continues to be a leader in an era of change by providing the training required for the emerging world where technology is integrated into everyday life. The mission of GCF® is to create and provide education, employment and life enrichment opportunities regionally, nationally and internationally for people who desire to improve the quality of their lives.
The Durham-based tax-exempt organization provides employment, fresh produce and volunteer opportunities regionally across eastern North Carolina. Through online education at GCFLearnFree.org and GCFAprendeLibre.org, GCF® provides no-cost lessons for people across the globe wishing to improve knowledge in a variety of subjects.
All GCF programs are funded through revenue generated from the value of donated items to 37 Goodwill Community Foundation stores throughout eastern North Carolina. GCF employs more than 300 people who earn an average of $19 per hour with benefits at these stores. For more information on GCF®, visit http://www.GCFGlobal.org.