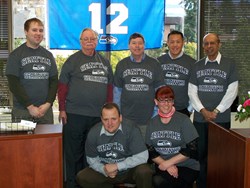 Seattle, WA (PRWEB) February 07, 2014
Viridian Tax and Accounting is proud to support our Seattle Seahawks in their World Championship win over the Denver Broncos. Viridian is proud to have many long term clients and employees who are die-hard Hawks fans.
Just as the Seattle Seahawks start their new football era with this Superbowl win, Viridian also celebrates its first month in their new office facility in the Northgate Executive Center.
"Since the Seahawks joined the NFL as an expansion team in 1976 there have been so many fans, clients, and staff who have waited so long for our moment in the spotlight. What makes this such a great win is the way we won our division against the 49er's and defeated one of the best offensive teams in NFL history. We did it on the biggest stage, against one of the legends of the sport, and in the most dominant fashion. This could not happen to a better city at a better time. I could not be more proud of our entire city." - Rob Lane, Manager and Shareholder
Viridian provides end to end financial services to individuals, families, and closely held businesses. Viridian and its prior companies have been in the Seattle area for over 25 years. Viridian's new Northgate office is located at - 9725 3rd Avenue NE, Suite 302, Seattle, WA 98115.
###