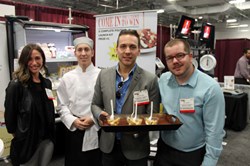 A real Poutine is made with the best Quebec ingredients or nothing
New York (PRWEB) February 11, 2014
Poutine is a traditional dish that originated in Rural Quebec in the late 50's. It is made with french fries, cheese curds and brown gravy. Poutine rapidly became the Quebecois' pride and favorite meal.
In the 2000's, fast food chains like Harvey's, New York Fries, Burger King, A&W and McDonalds brought Poutine to their menus all across the country, making it known to all the Canadians.
Quebec's famous dish is now considered by many as Canada's national dish and has become very popular all across the country. Many Canadian chefs with national reputations do gourmet takes on poutine.
In 2009, The New Yorker Magazine interviewed well known food-writer Calvin Trillin about Poutine asking what his toughts were about the Poutine dish being served in New York. He said that he wouldn't be surprised if in ten years from now, Poutine would be served in fast food chains in the United States.
A Manhattan restaurant, located on 2nd avenue, called Pommes Frites is well-known for its delicious hand-cut French fries. The owner, Mr. Omer Shorshi, decided to introduce Poutine a few years ago. Always looking to prepare the best, he uses exclusive Poutine sauce and original cheese curds from Montreal to prepare the dish. Mr Shorshi says, "A real Poutine is made with the best Quebec ingredients or nothing". The Poutine served there is just as delicious as one you could eat in Montreal.
There are about 10 locations in NYC where you can order a Poutine and it is also a popular menu item in dozens of restaurants in Orlando and Chicago, as well as other major cities throughout the United States. And that's just the beginning.
Global Distributions is a Canadian specialty food Importer working hard each day to promote Poutine and other high-quality specialty food in New York and across the United Stated. We will be exhibiting at the International Restaurant & Foodservice Show of New York on March 2nd to 4th and will be giving away thousands of delicious Poutine samples to the attendees. Come experience this mouth watering delight. Visit our website http://www.global-distributions.com for further information.