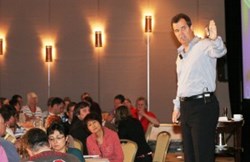 ...many home buyers are forced to postpone their plans to buy a house because higher home values means higher deposits.
(PRWEB) February 09, 2014
RP Data Rismark January Home Value Index found that median house prices in Melbourne have reached a record high of $610,000. This is 2.6 percent higher or $16,400 more than real estate Melbourne's previous record of $593,500 in October 2010, (News.com.au reported on 3 February 2014).
Ben Skilbeck, a Rismark Executive, revealed that investor activity for Melbourne real estate is driving high growth, while the number of owner-occupiers are also rising.
"Now that house prices are continuously rising, more and more people want to enter the property market. Unfortunately, many home buyers are forced to postpone their plans to buy a house because higher home values means higher deposits," said Rick Otton, the host of the highly-anticipated real estate event Ready, Set, Boom.
"This is the problem with buying houses with only 1 solution. Only a handful of people get to benefit from the effect of an existing market condition, while the rest have to wait until the market turns to their favour," he said.
Mr. Otton then shared in one of his latest interviews in preparation for Ready, Set, Boom that home buyers and property investors shouldn't delay their decision to buy or sell their properties, since creative strategies could help them enter the market in any market condition.
"Whether you're buying for residential For investment purposes you can benefit from creative strategies buying houses without paying a huge deposit or even applying for a new home loan. A flexible payment term is what sets this strategy apart from the traditional process of obtaining a home loan to pay the seller the price of the home," he said.
"In making houses 'easy to buy', sellers make their properties easy to sell. Rather than dropping the price of the house or waiting for a person to have enough cash to pay for the deposit, sellers can let go of their property faster since more people have the capability to buy it," Mr. Otton added.
Secure your free seat to the Melbourne leg of Rick Otton's Ready, Set Boom national tour on 27 February 2014 at http://readysetboom.com.au/ .
About Rick Otton
For over 23 years property millionaire Rick Otton has built an impressive real estate portfolio using innovative strategies that he has developed – strategies in which transactions are made without the need for traditional bank-type loans.
He constantly refines his techniques as he buys and sells properties through his We Buy Houses business which operates in Australia, New Zealand and the UK.
A gifted speaker and educator, Mr Otton conducts regular one-day free seminars across Australia, which build on the the concepts he shares in his 2012 book 'How To Buy A House For A Dollar', voted by Money Magazine and Dymocks Book stores as one of the Top 10 Most Popular Finance Titles for 2013.
He regularly records and publishes iTunes podcasts via his channel Creative Real Estate.
His innovative low-risk, high-reward approach to Australian real estate investing has been featured in a variety of television programs and magazines, including Today Tonight, Hot Property and Australian Property Investor.
To register for one of Mr Otton's free Australian one day seminars visit ReadySetBoom.com.au or phone, in Australia, 1300 888 450.