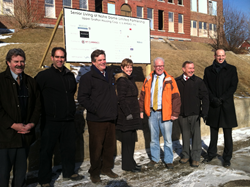 'We are proud to be a part of this project. It will be exciting to see the building come to life again.' -Stuart Anderson, Alba Architects
Berlin, NH (PRWEB) February 28, 2014
From Conway Daily Sun Article, Feb 4, 2014. It was a joyous day for a group of Notre Dame High School alumni who attended Thursday's ground breaking ceremonies for the $7.78 million renovation of the building into a 33-unit senior housing complex.
The city in December formally turned the building over to Littleton-based AHEAD (Affordable Housing Education & Development), which will convert it into 33 one-bedroom apartments for senior citizens. The apartments are coupled with the Medicaid Choices for Independence waiver program which funds supportive services that allow eligible residents to age in place as long as possible.
A large gathering turned out to see the work underway and celebrate a project more than a decade in the making.
Vacant for years and damaged by an arson fire, the building had become an eyesore when Project Rescue Notre Dame formed in 2003 to try and save it from the wrecking ball. "I called a few classmates to see if we could clean up Notre Dame," said group organizer, Lorraine Leclerc (class of 1965). The group enlisted the support of the city, which had acquired the building through tax deed. Leclerc said Project Rescue Notre Dame decided it would follow the project to the end even if the final outcome were to tear down the structure. But in their hearts, Leclerc said, the alumni felt they would be successful in saving Notre Dame.
"We worked hard at it," said Rita Gagnon, a 1951 graduate of the Catholic school.
AHEAD senior project manager Olivia Beleau said work got underway immediately after the closing was complete.
"This is the exciting part," said Beleau, as she outlined the renovation plans.
The building is not without challenges. There is a difference in elevation between the south and north sides of the building and there are five different levels. An elevator will be installed and there will be a common dining area.
Stuart Anderson of Alba Architects described the project as "challenging to say the least, but we like challenges - especially when a project has such a positive benefit to the community". The award winning design firm, based in Woodstock NH, has taken on a wide variety of projects recently, from the newly expanded Woodstock Station Brewery, to the new Enterprise Center at Plymouth State University, and even the renovation of New Hampshire's statewide Fire Towers. "It has been quite an interesting year" said Anderson, "and we are proud to be a part of this project. It will be exciting to see the building come to life again."
The schedule calls for the renovation to be completed this December.