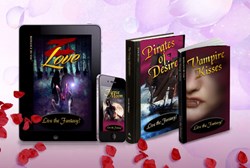 Personalize your Valentines with a customized novel from BookByYou.com
(PRWEB) February 07, 2014
Book By You, the world's leading publisher of personalized novels, turns the heat up this Valentine's Day with hot new release, Z LOVE. Perfect for fans of The Walking Dead, World War Z, Zombieland and all things zombie, Z Love features a hot-headed heroine and a studly hero with the smarts to match. When the ex-cop leading lady decides to take a vacation at her cottage in the remote town, where there are more trees than people, she's expecting a relaxing, worry-free break…not to mention the added bonus of the hunky guy next door. But when the neighbors start acting strangely, her vacation takes a turn for the worse… In the midst of fighting off the undead, wrangling survivors, and digging through clues in attempts to get to the bottom of a full-on Zombie Apocalypse, will all the flying sparks have time to ignite into a fiery romance, or will our hero and heroine be consumed by their own friends and neighbors?
Fans of Twilight and Vampire Diaries will love sinking their teeth into Book By You's personalized paranormal romances. Whether they're lovers of vampires or werewolves (or both), Book By You lets them flirt with danger in two perfect personalized romances. Calm the blood lust with Vampire Kisses, where a chance late night meeting in a college library spirals into an intense—and dangerous!—love affair. Or unleash the sexy beast with Fierce Moon, in which a time-traveling heroine finds herself in Victorian England, face-to-face with a steamy hot detective who may have a bit of a wild streak plaguing him.
For those who love a more classic Valentine's Day treat, Book By You offers personalized versions of nearly all of Jane Austen's novels, the newest of which is Persuasion. Young and impressionable Anne Elliot is persuaded by her family not to accept the marriage proposal of kind but poor and connectionless naval officer Frederick Wentworth. When a chance encounter reunites the two eight years later, still unmarried Anne finds her former flame has pulled himself up by his own bootstraps and has become quite the eligible bachelor. Will Anne and Frederick be able to overcome the hurts of the past and finally be together, or does fate have something else in store?
Originally published alongside Northanger Abbey shortly after Jane Austen's death, Persuasion is her final novel. This Valentine's Day, both are available for personalization together, making a doubly unique and special gift— not to mention a steamy read. Personalize Valentine's Day with Book By You this year and make this February 14th one for the books.
Book By You's entire personalized collection is now also available as personalized eBooks. Personalized ebooks are available for download immediately upon ordering— the perfect last minute personalized Valentine's gift. To make them especially unique, each ebook includes a free photo upload feature. Add a steamy personalized Valentine's dedication, and the result is a remarkable ebook that can be taken anywhere and read any time.
To purchase a personalized novel, romance lovers go to the company's website at BookByYou.com and complete a character questionnaire specifying the information to be included in their book. The company offers a free demonstration area where readers can preview personalized excerpts from any of the company's teen, romance, mystery or children's personalized books. Media interviews and promotional images are available upon request.
BookByYou.com has received national media coverage and has been featured on ABC's The View, CNN, Fox News, The Wall Street Journal, Jimmy Kimmel Live and many additional media outlets.
BookByYou.com is an interactive publishing company and the world's largest provider of personalized books. Media interviews, promotions and give-aways are available upon request. Please contact Michael Pocock at 1-877-898-1440 or publish(at)BookByYou(dot)com.