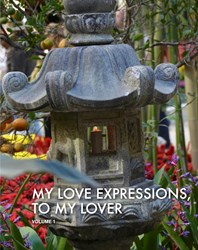 Your Juliet will enjoy reading or having "My Love Expressions to My Lover" read to them.
(PRWEB) February 10, 2014
Life gets crazy for Romeo and he means to give to his Juliet a gift that has value, a true expression of his love. He desires to be a true Lover engaged in the feelings and emotions of his Juliet. He desires to reassure her, encourage her, love her and know her but he falls short at times. Most Valentine Romeos have been somewhat self focused with one goal in mind.
Our goal at LovesBeat Publishing is to be an advocate to Romeo by aiding in the expression of the love and desire he has for his Juliet. Every man in some way has an image of himself as being a great lover and more than just a Valentine Day Romeo. With the publication of "My Love Expressions to My Lover" LovesBeat Publishing encourages Romeo to make a love resolution to themselves and their Lover, to love more deeply, passionately and completely. The details of the Love Resolution can be found on our website lovesbeatpublishing.com/the-love-resolution.html.
The book is a nice addition to the Love Resolution Challenge. On its pages is a collection of passionate expressions of ones love and desire with a healthy dose of heart felt emotion, from a uniquely different Lover. Our author is a Lover that all Romeos can relate to. In this interactive book made for iBooks, creates a multi sensory experience of not just sight but also feelings. It isn't a gift only for Valentine or any love holiday, It is a gift of love for any day of the year. For newlyweds to fan their flames of desire. It is a great anniversary gift to reignite embers, or fuel the flames that the Valentine Day Romeo works hard at keeping lit. The book is a catalyst for reaffirming desires for any special moment in Romeo's love relationship. Romeo's Juliet will enjoy reading or having "My Love Expressions to My Lover" read to them. Some have referred to it as being like a modern day Song of Solomon that any married couple would enjoy reading to each other.
The author Lynn Christopher, a Lover of his Juliet much like yourself collected and wrote these expressions to share the depth of desire that couples can share. He has been in a committed, faithful, passionate and loving relationship for 34 years with the love of his life. He has lead marriage classes because he desires for couples to succeed in love. His heart empathizes with the thoughts and desires couples become frustrated with. Christopher knows what it is like to struggle to express what is on your heart fully and completely to your Juliet. Visit the iBooks store and down load your sample today to you iPad and experience the passionate desire a Lover has for the Love of their life, a collection that expresses the way any Valentine Romeo should act and feel towards his Lover.