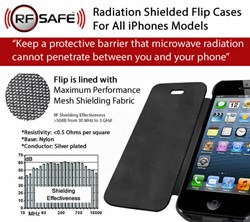 From the exterior RF Safe's Flip case looks and feels like any other high-end quality Smartphone flip case but that is where the similarities end.
Palo Alto, California (PRWEB) February 09, 2014
Smartphone users concerned about phone radiation no-longer need bulky radiation shields for protection from cell phone radiation.
One of the best things about RF Safe's Flip Case Phone Radiation Shield is that it is entirely discreet. The entire product from the exterior looks and feels like any other high-end quality Smartphone flip case but that is where the similarities end.
The high performance microwave shielding fabric that lines the inner part of the flip cover effectively shields the entire front of the phone - the shielding fabric is very soft and comfortable to touch at only 0.0045 inch thick.
After dialing a number or answering a call, simply close the flip case to put a deflective barrier between the phone and cell phone user. The flip case has an earpiece built into the front shielded flip so users can hear clearly.
In almost every regard, the RF Safe's flip case radiation shield is protection that's nearly invisible to everyone. When the phone is in a shirt or pants pocket just position it so the front (shielded) part of the phone is facing the body. In fact, one might even forget that they're using it.
RF Safe Flip Case Radiation Shields Block Cell Phone Radiation because the materials used in RF Safe's Flip Case Covers are very unique, using silver coated sheer nylon weave, it's essentially a metalized fabric covering the inside of the flip cover.
This is important because cell phone's communicate with microwaves— cell phones and many other common wireless devices use the same radio frequency (2.4Ghz) as a microwave uses to cook food.
Mostly everyone knows, you don't put metal in the microwave oven because the metal reflects the microwaves. Similarly, the special fabrics in the design of RF Safe's shields deflect potentially harmful electromagnetic emissions away from cell phone users.
Click below links to learn more about the best radiation shielded cell phone flip case on the market.
RF Safe Flip Cell Phone Case For New Apple iPhone Models
RF Safe Cell Phone Flip Case For Samsung Galaxy Smartphone Models
RF Safe air-tube headsets offer smartphone users a lot more than just protection from potential health risk associated with exposure to cell phone radiation.
The latest innovations in RF Safe acoustic technology are now available for the newest Apple iPhones and Samsung Galaxy smartphones on the market. Smartphone users are accustom to the latest technical advancements, and now with an RF Safe headset they can experience live acoustic sound without any electrical components in their ears.
RF Safe Air-tube Headset For All Apple iPhone Models
RF Safe Air-Tube Headset Samsung Galaxy Smartphone Models
NEW - RF Safe Shielded Universal Flip Cell Phone Case. Universal flip cases will be available for all smart phones from 4 inches to 7 inches starting March 1 2014
RF Safe is making safety sound better than ever before. Smartphone users using the newest innovation in radiation safe cell phone headsets also get to experience rich live sound unlike any wired headset on the market today.
RF Safe's headset technology utilizes a state-of-the-art enhanced sound chamber which delivers crystal clear acoustic live sound through an air-filled wireless tube (similar to a doctor's stethoscope). RF Safe is debunking the myth that safer isn't as much fun.
According to John Coates "By replacing the wire found on ordinary headsets with patented acoustic air tube technology, the RF Safe headset reduces RF exposure to the head and increases the pleasure of listening to one's favorite music on their smartphone."
Be RF Safe To Be Sure!
ABOUT RADIO FREQUENCY SAFE – http://www.RFSAFE.COM
RF SAFE is the world's premier provider of cell phone radiation protection accessories and informational data. Since 1998 RF (Radio Frequency) Safe has been dedicated to evolving the wireless industries safety standards, by engaging in the business of design, testing, manufacture, and sale of safety technologies to mitigate harmful effects of cell phone radiation.