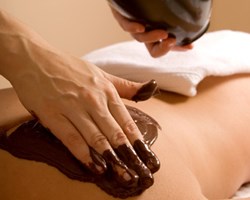 Combined with luxurious accommodations, candlelit dinners, Maya cacao-inspired cocktails and desserts, the Chocolatissimo Package immerses guests in an intoxicating experience.
San Ignacio, Belize (PRWEB) February 09, 2014
It was back in February 1894 that Hershey's, a company whose name is synonymous with chocolate, was founded. But according to The Lodge at Chaa Creek' s Food and Beverage Manager, it is the ancient Maya who deserve credit for inventing the "Food of love".
And 110 years after the founding of Hershey's, Belize's Chaa Creek eco resort is continuing the Maya tradition with unique spa treatments using chocolate and its the main ingredient, cacao.
In Belize's early Maya civilisation cacao was so highly prized it was used as money. As the preferred beverage of both the royal elite and commoners, chocolate was deemed to be vital to health and wellbeing, and to enhance love.
Bryony Fleming Bradley, who also manages Chaa Creek's Hilltop Spa, which has introduced the Chocolatissimo Belize vacation package, said that the Spa's professional therapies utilise massage and the absorption of cacao through the skin to refresh and revitalise while inducing sensations akin to falling in love.
And there seems to be scientific evidence to back these claims.
According to an article in the UK's Daily Mail online, Cambridge neuroscientist Adrian Owen said that one explanation of chocolate's appeal is that "the unique combination of aroma, texture and taste makes eating chocolate a pleasurable experience that stimulates the emotional 'feel-good' centres of the brain.
"Both smelling and eating chocolate activate areas of the brain that are known to be involved in creating feelings of pleasure. It seems chocolate has a unique blend of sensory qualities which make us feel good, activating pleasure centres in the brain," Dr Owen said.
Ms Fleming Bradley said these effects are heightened when cacao is absorbed through the skin in combination with a sensuous massage.
"From what we see, the effect is indescribable," she said, and added that another bonus is that skin takes on a silky lustre with a slight chocolaty perfume.
Ms Fleming Bradley said that The Chaa Creek Chocolatissimo Package offers five unique treatments including a Cacao Massage and a Chocolate Fondue Wrap.
"Combined with luxurious accommodations, delicious breakfasts, candlelit dinners followed by Maya cocoa-inspired cocktails and desserts, the Chocolatissimo Package immerses guests in an almost intoxicating experience. They'll soon understand why the ancient Maya held cacao in such high regard and why today in Belize, as in much of the rest of the world, it is still regarded as 'the food of love'," she said.
In addition to the chocolate themed spa treatments and food and drinks, the all-inclusive Chocolatissimo Belize vacation package includes a variety of onsite activities such as Maya temple visits, nature walks, biking through cacao groves and romantic sunset canoe trips on the Macal River.
"It's a complete experience and, as one of Chaa Creek's all-inclusive packages everything from casual luxury accommodation, all meals, activities, transfers, spa treatments, even government taxes and staff gratuities are included.
"Total relaxation is enhanced with the knowledge that there are absolutely no hidden costs or charges. From the time we pick our guests up at Belize's international airport until we drop them back off, they can relax and leave the details to us," Ms Fleming Bradley said.
While Chaa Creek's Chocolatissimo Package is particularly popular during the Belizean eco resort's "Valentine's Month", which is celebrated throughout February, the package is available all year long Ms Fleming Bradley said.
The Lodge at Chaa Creek is an award winning eco resort located in the midst of a 365 acre private nature reserve in Belize.