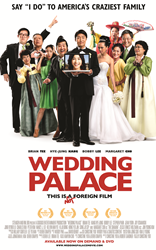 I can't believe it. I'm spending my whole day answering people on Twitter. People are finding us from everywhere.
Hollywood, California (PRWEB) February 10, 2014
On the heels of its US theatrical run, WEDDING PALACE has been released by Gravitas Ventures throughout North America, South America, Europe, Australia, and Japan. To celebrate WEDDING PALACE is hosting a social media event to promote fun, Korean food, and romance for Valentine's Day and beyond.
Winner of Best Independent Film, Best Cinematography and over $100,000 in prizes at the Cinegear Film Series International Competition, the film stars Hye-Jung Kang ("Oldboy"), wife of K-pop star Tablo in her first English language film. Top critics agree the ensemble cast, led by Brian Tee ("The Fast and the Furious: Tokyo Drift"), Bobby Lee ("Mad TV") and Margaret Cho are "endearingly over the top" (Village Voice); The New York Times hails the film's leads saying "Tee and Kang sparkle together" and compares the "highly stylized" "swimming in color" rom-com to Baz Lurhman's career-launching ballroom dancing delight "Strictly Ballroom."
The comedy explores both the charms and pitfalls of modern, Skype assisted courtship. Separated by the Pacific Ocean, Los Angeleno "Jason" (Tee) and his Korean sweetheart "Na Young" (Kang) develop their romance online and even get engaged over an elegant candle-lit dinner through their computers. Once they meet in person, the bride reveals an outrageous secret she never shared via webcam. Looking for love online is increasingly common. According to statisticbrain.com, 76% of single Americans (40 million people) have tried online dating. A study published in Proceedings of the National Academy of Sciences estimates that almost 35% of married couples now meet online.
The indie film has a global Facebook audience approaching 100,000 fans with over 500 Twitter followers joining the social media conversation each day. Director Christine Yoo says, "I can't believe it. I'm spending my whole day answering people on Twitter. People are finding us from everywhere."
Gravitas Ventures secured all digital rights to WEDDING PALACE last fall. According to Mia Bruno, Senior Acquisitions Manager, "It has all the ingredients that make for a success on our platform-- it's a romantic comedy that's both genuinely romantic and laugh-out-loud funny."
WEDDING PALACE is inviting lovers and friends to come together to watch the film and enter for a chance to win A Korean Kitchen cookbook by Hawaiian food celebrity Joan Namkoong, $250 iTunes gift card, and other fun Korean-themed prizes. Complete contest rules and entry form are posted on the rom-com's official website.
CONTEST SPONSORED BY: Hite Jinro, Korea Tourism Organization, Mutual Publishing, GoGoGo Entertainment
ABOUT GRAVITAS VENTURES. Gravitas Ventures specializes in the aggregation of entertainment content by connecting independent filmmakers, producers, and distribution companies with leading cable, satellite, telco and online distribution partners. In the last five years, Gravitas has released more than 2,000 films on Video on Demand (VOD). Through its relationships with studios and VOD operators, Gravitas can distribute a film into more than 100 million in North American and 1 billion homes worldwide.
For more information about WEDDING PALACE.
Official Website: http://www.weddingpalacemovie.com
Contact: Jeff Blanchard or Derek Draper
Phone: (213) 293-8866
Email: contest(at)weddingpalacemovie(dot)com