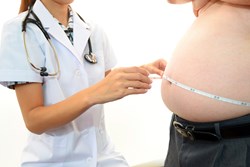 There is no magic remedy to shedding pounds…patients must stick to a healthy diet and lifestyle to maintain the progress.
London (PRWEB UK) 7 February 2014
There are currently multiple programs available in the UK for those suffering from health issues that stem from being overweight, including restrictive surgery, to reduce the size of the stomach, allowing the person to eat smaller meals and achieve a satisfactory weight for healthy living.
These operations use similar techniques such as laparoscopic gastric binding, vertical banded gastroplasty, which is considered the safest option considering it is adjustable and reversible or intra-gastric balloons, all of which may help lead the patient to lose up to 40% of excess weight. 1
Now a new weight loss option for overweight persons with a BMI of 27 or obese adults with a BMI of 30 and above, has been approved for use in Europe, and is currently available privately at a cost of up to £4,000 in the UK. This simple treatment can be completed in less than ten minutes and consists of a large pill containing a gastric balloon being swallowed by the patient and then inflated with an undisclosed gas. This balloon gives a full feeling to the stomach which in turn allows the patient to eat less while still feeling full.
If after one month the patient is found to still feel constant hunger a second Obalon can be swallowed with a third following that a month later. This pill is only designed for a maximum usage of three months during which the patients is taught new eating habits that must be adhered to after the removal of these balloons.
This removal is done during an outpatient endoscopy which can be conducted without any anaesthetic. Companies offering this treatment are currently charging £1,995 for one balloon, £2,995 for two and £3,995 for three.
After the first balloon is inflated the patient must consume only clear liquids the first day, soft foods on the second day, and by the third day they should be able to tolerate normal foods with caution.
When combined with developing long-term eating habits that are healthier and including physical activity, this Obalon capsule may be able to help patients achieve their weight loss goals. If the patient has type 1 diabetes or any previous medical disorders such as problems with the gastro-oesophageal tract then this procedure is not recommended. Those who are preparing for motherhood or are pregnant or breastfeeding should not use this product.
Obalon conducted a study of the effectiveness of their gastric balloon in 119 obese patients, mainly women, who initially received a single balloon. After four weeks 55 patients required a second balloon and a further six a third balloon, during the treatment period.
From the original control group there was a 7.6% drop-out rate although 110 patients did complete at least eight weeks of treatment. This study recorded an average weight loss of 1stone which they say represents an average "excess" weight loss of about 50%. No serious complications were reported although about one in 10 patients reported nausea, 6.7% reported vomiting and 7.6% requested early removal of the balloons.
Similar results have been reported when studying the effectiveness of gastric banding and gastric bypass surgery, which normally result in around an excess weight loss of around 50% to 70%, although these forms of gastric surgery seems to be able to sustain more long-term weight loss.
Before taking the radical step of spending thousands of pounds for gastric surgery or simply swallowing a balloon, it is always recommended to try to lose weight through a balanced, calorie-controlled diet and increased exercise.
There is no magic remedy to shedding pounds, so although these alternatives may aid in initial weight loss, patients must stick to a healthy diet and lifestyle to maintain the progress made by using Obalon or following other procedures. 2
1. http://www.webmd.com/diet/weight-loss-surgery/gastric-banding-surgery-for-weight-loss
2. http://www.nhs.uk/news/2014/01January/Pages/Gastric-balloon-pill-launched-in-UK.aspx?fromsource=nelm