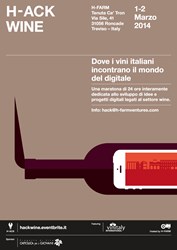 H-ACK WINE and Vinitaly International aim to inject an element of novelty and renewal into the system of communication and promotion of Italian wine
(PRWEB) February 07, 2014
H-FARM, a digital platform founded with the aim of helping young entrepreneurs in launching initiatives in the internet sector, has commenced a major collaboration with Vinitaly International, the real worldwide ambassador of Italian wine, in view of the next meeting with H-ACK, scheduled for March 1-2, 2014. HACK-WINE will be a 24-hour non-stop marathon fully focused on assembling ideas and digital projects related to the wine industry.
H-ACK is the first hackathon format completely dedicated to the world of business, which aims to help operators of traditional businesses find new ideas and new market approaches by using digital tools (http://tinyurl.com/owbqg3s). In this new initiative, thanks to Vinitaly's support, the most important brands of the Made in Italy wine sector will put themselves on the line with young people willing to take up the gauntlet thrown down by the brands themselves.
"I'm very pleased that a leading company like Vinitaly has decided to cooperate with us for the realization of this 'digital brainstorming' marathon, sharing its own experience and proficiency", states Riccardo Donadon, H-FARM founder. "It's a good feeling to find yourself united by the desire to create something innovative and unique for young people, who need the tools to be able to understand the business world and, at the same time, have the opportunity to contribute to the development of new ideas".
H-ACK intends to bring wine communication beyond the traditional channels – consisting of press releases, promotional events and incoming activity – and to adopt, instead, unprecedented business models based on the use of digital platforms such as blogs, websites and social media.
"This is a huge window of opportunity for the world of Italian wine", explains Stevie Kim, Vinitaly International Managing Director. "Wine promotion and advertising in the world has been done more or less the same way up until now, and the channels have remained unmodified for ages. For this reason, H-ACK WINE and Vinitaly International aim to inject an element of novelty and renewal into the system of communication and promotion of Italian wine " (Interview with Stevie Kim http://tinyurl.com/lxp2n8t).
The teams that present the best projects will not only win a prize contributed by each company, but will have the chance to participate in H-CAMP, the intensive accelerated program of H-FARM. There, they will be able to further develop their project and begin to give life to their own enterprise (or small innovative company). H-ACK will then become an added opportunity for all those brave and enterprising young people who believe in the potential of the network to find or construct a career.
About:
Veronafiere is the leading organizer of trade shows in Italy including Vinitaly (http://www.vinitaly.com), the largest wine event in the world. The 47th edition of Vinitaly counted some 148,000 visitors (+6%), of which 53.000 were international attendees (+10%) visiting from 120 countries. On 95.000 square meters, 4.200 exhibitors welcomed trade professionals, media and producers alike. The next instalment of the fair will take place on 6th- 9th April 2014. The premier event to Vinitaly, OperaWine (http://www.vinitalyinternational.com) "Finest Italian Wines: 100 Great Producers", will unite international wine professionals on April 5th 2014 in the heart of Verona. Veronafiere also created Vinitaly International in 1998 to develop a global platform for the promotion of companies in the Italian wine and food sectors.
H-FARM is a digital platform created with the intention of helping young entrepreneurs in breaking the mold by launching initiatives based on original business models in the Internet sector and to sustain the transformation of Italian companies in a digital perspective.
The business accelerator model takes an average of 36 months, during which H-FARM invests in and supports the startup growth process. H-FARM is based in the Ca' Tron farming estate (just in front of Venice lagoon), Seattle (USA), Mumbai (India) and London (UK).
In the first nine years, H-FARM has invested approximately € 15.4 million in 54 innovative companies, creating over 350 new jobs. The aggregate turnover of H-FARM companies exceeds € 30 million. Between 2014 and 2018 they plan to invest a further €10 million.
# # #