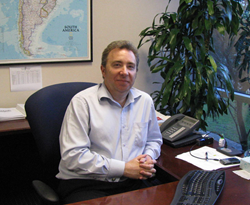 LRQA's technical expertise and reputation are second to none in the industry.
(PRWEB UK) 10 February 2014
Andrew Smith has been appointed Global Food Sector Development Manager at LRQA. With over 5000 food sector clients – from the world's best known brands, to some of the smallest suppliers in emerging markets – this move highlights LRQA's commitment to delivering the best client experience, both in terms of service and technical excellence.
Andrew will focus on the account management, client services and key commercial aspects of LRQA's global food business and brings deep sector-specific insight to the role, developed over many years working with some of the world's leading food organisations. "LRQA's technical expertise and reputation are second to none in the industry. My new role will aim to ensure that we have the ability and resource to provide a comprehensive, seamless offering to our clients and that we continue to develop new and innovative services as required, thereby meeting the needs of the global food sector." said Andrew.
In his new role, Andrew will work with Cor Groenveld, LRQA Global Head of Food Supply Chain Services and Chairman of the Board for the Foundation for Food Safety Certification (FFSC). Cor sits on many of the committees helping to shape the future of the food assurance market, including those of the International Organisation for Standardisation (ISO) and the Global Food Safety Initiative (GFSI), to whom Andrew recently gave an in-depth interview to on the topic of Harmonisation, Consistency & Transparency: The Three Pillars of Food Safety in the 21st Century. LRQA has significantly increased their food business over the past three years and Andrew and Cor will spearhead the drive for continued growth via the LRQA Global Food Team.
"Andrew's appointment in this key global food role demonstrates LRQA's commitment to growth in the food sector," said Groenveld. "He has done an excellent job in developing our food business in the Americas and with a number of our global food clients. This move helps us strengthen our focus on this key strategic area, and position LRQA globally for continued success in 2014 and beyond."
LRQA will be at the GFSI Global Food Safety Conference in Anaheim. Join us for breakfast at 8 am on Thursday 27 February, for 'Going global: Barilla's food safety certification journey', or visit us during the event – Stand F1.
End
Notes to editors
About LRQA
LRQA is a member of the Lloyd's Register group. LRQA is a leading independent provider of assurance services including assessment, certification, validation, verification and training across a broad spectrum of standards and schemes. For Group details see http://www.lr.org/entities.
About Lloyd's Register
Lloyd's Register (LR) is a global engineering, technical and business services organisation wholly owned by the Lloyd's Register Foundation, a UK charity dedicated to research and education in science and engineering. Founded in 1760 as a marine classification society, LR now operates across many industry sectors, with over 9000 employees in 78 countries.