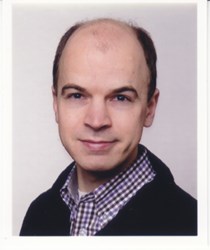 (PRWEB UK) 7 February 2014
Optegra Eye Sciences, the research and development division of the specialist eye hospital group, has secured a new grant and appointed a new research associate.
Dr Andreas Hartwig1, age 32, is a PhD graduate from The University of Manchester, with particular interest and experience in optics and clinical trials.
Andreas' work at Optegra's Eye Sciences centres around a Knowledge Transfer Partnership (KTP) with The University of Manchester. The project will focus on a range of ophthalmic research projects and develop novel approaches for evaluating visual performance. Additionally, the project will increase engagement with patients by providing the latest information on new treatments and technologies from the results of these research activities. Currently Andreas is overseeing a study that compares surgical techniques during the implantation of intraocular lenses.
The KTP has recently been awarded a grant from the Technology Strategy Board of £73,265.00 which allows Andreas and the team to dedicate two years to sharing expertise between the worlds of business and study, planning together the latest trials.
The project also aims to help develop frameworks for running large scale ophthalmological studies and clinical trials, in conjunction with manufacturers of medical devices and treatments. With six eye hospitals across the UK and 23 clinics across Europe, Optegra is well placed to carry out large scale clinical studies. It aims to support its surgical partners in pursuing their research interests, which might mean developing protocols, analysing data and helping to write up the results for presentation and publication.
Dr Andreas Hartwig said: "Being based at Optegra, while working so closely with academia gives me the best of both worlds. It is an exciting role as we work to continually improve outcomes with IOLs and other treatments for patient benefit. It is a great advantage to be able to access The University of Manchester's resources, while they can draw on Optegra's dedicated research and corporate expertise."
Having graduated from University of Applied Sciences, Braunschweig/Wolfenbuettel, Germany, including travel to Sydney to complete his studies, Andreas has worked as an optometrist in Germany and was responsible for conducting clinical trials during that time, ahead of coming to the UK to complete his PhD. He also has research experience with an international contact lens manufacturer and has organised clinical trials around the world. In his free time Andreas enjoys photographing the UK countryside and sports such as jogging and cycling.