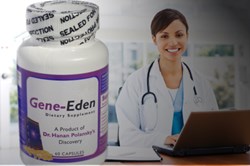 We recommend that people concerned about the flu virus take Gene-Eden-VIR. This natural supplement includes a green tea extract, and was recently proven to reduce viral symptoms in a post-marketing clinical study. – Mike Evans, polyDNA
Rochester, NY (PRWEB) February 13, 2014
Flavanoids, a chemical found in green tea, can stop certain viruses from replicating. One kind of flavanoid, called catechin, and more specifically, EGCG, is known to target the flu virus. A study found that "Epigallocatechin gallate (EGCG) and theaflavin digallate (TF3) (1-10 microM) inhibited the infectivity of both influenza A virus and influenza B virus… These findings suggest that tea polyphenols bind to the haemagglutinin (a protein) of influenza virus, inhibit its adsorption (entry) to MDCK cells, and thus block its infectivity." (See the journal Antiviral Research, from August 1993) (2). polyDNA recommends Gene-Eden-VIR against the latent flu virus. This natural product contains a green tea extract in addition to four other antiviral natural ingredients. Gene-Eden-VIR was proven to reduce symptoms associated with latent viral infections in a post-marketing clinical study that followed FDA guidelines.
"Green tea is known to have many properties that can help keep you in tip-top health - and therefore better prepared to ward off cold and flu bugs." (See Doctoroz.com, from December 14, 2011) (3). A study found that "EGCG prevented infection by the influenza virus by binding to the viral hemagglutinin. The bound viral particles cannot attach to the target receptor cells. Related cell culture studies showed that changes of viral membrane properties contributed to the antiviral effect of tea catechins against the influenza virus." (See the journal Molecular Nutrition & Food Research) (4). This means that the flavanoids in green tea prevented the flu virus from invading uninfected cells in the body.
Another study found that "The use of catechins and theanine, which are well-known components of green tea, shows promise as an intervention for preventing influenza infection." (See the journal BMC Complimentary and Alternative Medicine, from February 21, 2011) (5).
"We recommend that people concerned about the flu virus take Gene-Eden-VIR. This natural supplement includes a green tea extract, and was recently proven to reduce viral symptoms in a post-marketing clinical study." – Mike Evans, polyDNA
A study published on August 12, 2013 in the peer reviewed, medical journal Pharmacology & Pharmacy, in a special edition on Advances in Antiviral Drugs, showed that Gene-Eden-VIR reduced viral symptoms. Study authors wrote that, "We observed a statistically significant decrease in the severity, duration, and frequency of symptoms (6)."
To learn more about Gene-Eden-VIR, visit http://gene-eden-kill-virus.com/.
All orders of Gene-Eden-VIR are completely confidential, and no information is shared or sold to any third party. Privacy is assured.
References:
(1) Ways to avoid colds and flu. Published on February 3, 2014.
http://www.gulf-times.com/opinion/189/details/379873/ways-to-avoid-colds-and-flu
(2) Inhibition of the infectivity of influenza virus by tea polyphenols. Published on August 1993.
http://www.ncbi.nlm.nih.gov/pubmed/8215301
(3) Cold and Flu Home Remedies. Published on December 14, 2011.
http://www.doctoroz.com/blog/donna-cardillo-rn-ma/cold-and-flu-home-remedies
(4) Overview of antibacterial, antitoxin, antiviral, and antifungal activities of tea flavonoids and teas. Published on January 2007.
http://www.ncbi.nlm.nih.gov/pubmed/?term=Overview+of+antibacterial%2C+antitoxin%2C+antiviral%2C+and+antifungal+activities+of+tea+flavonoids+and+teas
(5) Effects of Green Tea Catechins and Theanine on Preventing Influenza Infection among Healthcare Workers: A Randomized Controlled Trial. Published on February 21, 2011.
http://www.ncbi.nlm.nih.gov/pmc/articles/PMC3049752/#__ffn_sectitle
(6) Gene-Eden-VIR Is Antiviral: Results of a Post Marketing Clinical Study. Published on August 12, 2013.
http://gene-eden-kill-virus.com/PP_Gene-Eden-VIR-is-Antiviral.pdf
polyDNA is a biotechnology company that develops dietary supplements using the unique scientific method developed by Dr. Hanan Polansky, which is based on Computer Intuition.
In addition to his unique scientific method, Dr. Polansky published the highly acclaimed scientific discovery, called Microcompetition with Foreign DNA. The discovery explains how foreign DNA fragments, and specifically, DNA of latent viruses, cause most major diseases.
polyDNA developed Gene-Eden-VIR, an antiviral natural remedy that helps the immune system kill latent viruses.