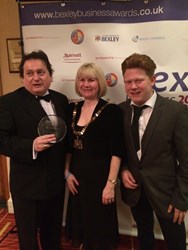 Achieving ISO14001 certification gives us that external validation of our environmental credentials.
Bexleyheath, Kent (PRWEB UK) 7 February 2014
Marstan Press is a family owned printing business that celebrates its 60th anniversary later this year. Staff including directors and apprentices attended the Gala Dinner for The Bexley Business Awards last night, having been nominated as finalists in three separate categories. They left victorious in the 'Best Green Business' category.
Marstan Press was founded in 1954 by the late Stanley Lett. 60 years on the company has grown significantly and now provides litho and digital print services to companies across the UK. The company holds FSC and ISO14001 certification. Having entered submissions for three categories, Marstan Press successfully made the finalist shortlist in all three, which included, 'Best Medium Sized Business', 'Best Business for Apprenticeships and Employment for Young People' and 'Best Green Business'.
2014 is a busy year for the family business which sees their largest ever investment when they take delivery of a brand new Heidelberg printing press later this month. Other investments include a new management information system which includes features that allow customers to manage their stock and quotation requirements online. The final part of the expenditure is a new stitching line that runs at double the speed of the current model.
Marstan Press currently employs four apprentices and Managing Director, Martin Lett Snr states, "Young people are the life blood of any company. As a family business we feel a responsibility to give young people an opportunity in these tough economic times and we have been very pleased with the contribution they have made to our company."
Following the announcement of their success in the 'Best Green Business' category, Sales and Marketing Director Martin Lett Jnr commented, "It is a great achievement to be recognised in this particular category. Marstan Press has been focused on reducing its environmental impact for a long time now, and we have been one of the first UK printers to adopt chemical free plate making and one of the first 100 to achieve FSC Certification back in 2007. We have a wide range of environmental initiatives including the use of vegetable based inks as standard, the use alcohol substitutes on press for lower VOC emissions, companywide recycling and reuse and the use of low emission vehicles for the sales team. The icing on the cake was the achievement of ISO14001 certification last August, which gives us that external validation of our environmental credentials."
Martin Lett Snr added, "John Reavell and Martin Jnr have put a lot of effort into achieving ISO14001, but it couldn't have been achieved without the full support of all our staff. This award is an excellent way to start our 60th year of business, and there are more exciting things happening later this year."
People interested in finding out more can contact Martin Lett Jnr by calling 020 8301 5900, emailing M.Lett(at)themarstanpress(dot)co.uk or by visiting http://www.themarstanpress.co.uk.