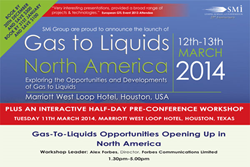 (PRWEB UK) 7 February 2014
The SMi Group's Gas-to-Liquids North America Conference will be taking place in Houston, Texas, USA, on the 12th and 13th of March 2014. This is a unique opportunity to hear about current and emerging projects in North America expressed from the resource holders.
The SMi Group is pleased to announce General Wesley K. Clark (Ret.), Chairman, Energy Security Partners, will be giving a keynote presentation on "Advancing America's Energy Future" at the Gas-to-Liquids North America Conference in Houston this March.
Interactive Half-Day Pre-Conference Workshop: Gas-to-Liquids Opportunities Opening Up in North America, hosted by Alex Forbes, Director, Forbes Communications Limited, will be taking place on the 11th of March 2014.
Attending companies include: ExxonMobil, Sasol North America, Joakadom Oil Ltd, Energy Security Partners, Independent Project Analysis, Inc., SGC Energia, RBN Energy LLC, JOGMEC Houston Office, Winston & Strawn, Abengoa, University of Colorado at Boulder, ZeoGas, General Electric - Oil & Gas, Bio2Electric and many more.
Key presentations include:

Sasol GTL: Projects, Products, and US Perspectives
Mark Schnell, General Manager, Marketing, Strategy and New Business Development, Sasol North America

GTL Implementation: Project Update
James Davis, Senior Vice President, XTLH, SCG Energia
EmberClear's Mississippi GTL project
Raj Suri, President, EmberClear
Modular GTL: Transformational Gas Solution for the Upstream Industry
Shravan Joshi, Business Development Manager, CompactGTL
Financing GTL Project: What do you need to do to secure finance?
John Bills, Managing Director, BNP Paribas
For more information or to register, go to the event's website http://www.gtl-northamerica.com or contact Andrew Gibbons via +44 (0) 207 827 5156 or e-mail agibbons(at)smi-online(dot)co.uk.