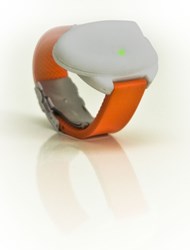 "This technology will reduce the impact Epilepsy can have on peoples' lives and I'm proud to be endorsing it." - Dr Hilary Jones
Cardiff, Wales, UK (PRWEB UK) 10 February 2014
To mark European Epilepsy Day, TeleCare24 is pleased to announce the launch of a brand new epilepsy alarm called Epi-Care. The wrist-worn epilepsy sensor has the ability to detect tonic-clonic seizures within approximately 7 seconds. This is the first time a sensor of this type has been made available to the British public. With over 600,000 people in the United Kingdom living with epilepsy, the Epi-Care is has been designed to help many people regain confidence and freedom.
Previous epilepsy alarms were confined to the user's bed with a high level of false alarms. With the state of the art wrist-worn Epi-Care alarm users can be safely monitored wherever they are. People living with epilepsy now have the best opportunity to enjoy a greater degree of freedom while still ensuring that their loved ones or a contact centre will be informed immediately if they suffer a seizure.
The Epi-Care sensor ensures that epilepsy sufferers and their loved ones will have a greater degree of confidence knowing that if a seizure does occur, support and assistance can be supplied as quickly as possible. For parents of children with epilepsy keen to allow their children to have a greater sense of freedom, while still ensuring that they will receive assistance quickly, this is the ideal solution that strikes the balance between safety and freedom.
One of the first things that people notice about the Epi-Care wrist sensor is its modern and slimline design. The highly advanced 3D accelerometer is able to distinguish between everyday movements and that of a tonic clonic seizure, ensuring false readings are dramatically reduced compared to traditional Epilepsy alarms.
The Epi-Care can raise alerts in three separate ways, via a Smartphone, an in-home pager or a careline alarm; each designed to benefit people in different circumstances.
The Smartphone app provides the greatest amount of freedom, especially for people who are generally more active. No matter where the user is the sensor will raise an alert to family, friends or to a 24-hour careline team. The alert can be sent by text, email or telephone. The Epi-Care will also send the GPS location of the wearer so that immediate assistance can be provided.
For those who need assistance at home, the sensor can be connected to an in-home pager that can alert family members within 100 metres. This solution is perfect for parents caring for children with epilepsy who may be afraid to leave the child in a room alone.
For users who are home alone for long periods of time, the Epi-Care can be connected to a careline alarm which will raise an alert with a 24-hour careline team. When a call is placed by the alarm the highly trained Careline Team will provide immediate assistance.
The Epi-Care sensor has undergone rigorous testing in Denmark and Germany over the past two years. Close to 5,000 hours of trials have been undertaken and the sensor has been found to offer a near 90% level of accuracy, far higher than in the measurement of tonic-clonic seizures with traditional bed sensors. The tests also showed a dramatic reduction in the occurence of false alarms.
The Epi-Care sensor has received a resounding endorsement from TV Doctor, Dr Hilary Jones. The resident doctor on ITV morning show Daybreak, Dr Jones said; "The EpiCare sensor is going to give thousands of people the freedom and confidence to live happy and fulfilling lives. This technology will reduce the impact that Epilepsy can have on peoples' lives and I'm proud to be endorsing it."
Dealing with epilepsy can often be a daunting task; there is a delicate balance to be struck between a sense of freedom and the need to remain safe and in contact at all times. The launch of the Epi-Care alarm, brought to the general public by TeleCare24, will ensure that people living with epilepsy will have a greater sense of confidence and freedom no matter where they are.
About TeleCare24:
TeleCare24 specialises in providing support and products for people living with range of conditions. We are continually testing new technology in order to offer the most reliable products and services for people living with epilepsy and their families.
TeleCare24 works closely with recognised and respected medical agents such as the Danish Care Technology and Possum Telecare and has received strong endorsements from Dr Hilary Jones, one of the most recognisable and respected doctors in the United Kingdom.