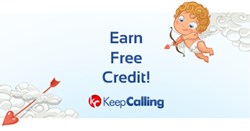 KeepCalling.com launches a special Valentine's Day promotions which offers its clients free calling credit.
Atlanta, Georgia (PRWEB) February 09, 2014
KeepCalling.com announces a special Valentine's Day offer for all its customers who want to get free calling credit. Between 10-13 February, each customer who refers a friend to KeepCalling.com's services is rewarded with $10 Voice Credit. The free credit comes in handy at the right moment, just before Valentine's Day. Voice Credit is KeepCalling's prepaid service, through which customers can make calls and send SMS all over the world from any phone or computer.
The mechanism behind this campaign is the Thank You points loyalty program that KeepCalling.com offers its customers. Each customer has a personal referral code which he can find in his account. Customers can send that referral code through an automatic email to their friends that KeepCalling provides. No matter the means of sending the referral code, the idea is that whenever a customer's friend opens a new account on KeepCalling.com and places his first order, the customer receives 500 Thank You points. Also, for each order customers place, they receive 2% of that value in Thank You points.
When customers reach 1000 Thank You points, they can convert them into $10 Voice Credit. Therefore, this Valentine's Day promotion doubles the Thank You points offered by KeepCalling. For only one friend who opens a new account and places an order on the website, customers receive 1000 Thank You points which they can immediately convert into $10 Voice Credit. Besides Voice Credit, KeepCalling.com also offers Virtual Numbers, Mobile Recharge and an unlimited calling plan to US.
Customers can call anywhere in the world through the widest variety of means. If they choose to call by phone, they can do that by choosing the access number that is closest to their location. If they want to call from their computer, customers can use the Web Call app available on the website and if they want to use a smartphone, they can call through KeepCalling mobile app, available for iOS and Android.
KeepCalling.com customers are highly satisfied with the service they receive. As one of them says, "The great service that KeepCalling.com provides has helped me improve my communication with my family and friends, something that is greatly appreciated while being far from home."
What differentiates KeepCalling.com from other services are the low prices offered, the frequent promotions, and the reliable services. What makes KeepCalling.com even more attractive and trustworthy are the comprehensive Help Center and the 24/7 Customer Service, available through chat and email in both English and Spanish.
KeepCalling.com guarantees 100% transaction security and satisfaction. All major payment methods are accepted: Visa, MasterCard, American Express, Discover and PayPal. Moreover, payment is available in several currencies: US, Australian or Canadian Dollars, plus British Pounds and Euros. The payment security system is known as very strong.
KeepCalling.com runs a policy focused on integrating superior customer service, while maintaining the highest standards of technology at affordable rates. That is why KeepCalling.com is an affordable solution for international calling and texting.
About KeepCalling.com:
KeepCalling.com is an interactive website designed by KeepCalling, a global telecommunications company registered in 2002 in USA. KeepCalling, the company behind KeepCalling.com, offers other telecom solutions apart from Mobile Recharge: Prepaid Voice, Virtual Number, Monthly Plans, WebFax, Web Call and Web SMS through various ethnic websites. Presently, KeepCalling provides its services to over 150,000 consumers and businesses, with a focus on customer satisfaction. In 2012, Inc Magazine listed KeepCalling as the 21st fastest growing company in the telecommunications industry.