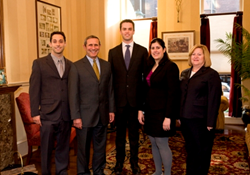 (PRWEB) February 10, 2014
Pozzuolo Rodden P.C., Philadelphia Estate Planning Lawyers, announces the release of "The Fundamentals of the Federal Gift and Estate Tax Exclusion Portability Between Spouses"
"Portability" is a concept under the transfer tax laws of the Internal Revenue Code. Specifically, portability allows a surviving spouse to use a deceased spouse's unused federal gift and estate tax exclusion (up to $5.34 million in 2014). Under the American Tax Relief Act of 2012 (ATRA), portability has become permanent.
1. Federal Gift and Estate Tax Exclusion
A person, John, could make a gift to his beneficiaries, whether during his lifetime or at his death, of up to $5.34 million without incurring federal gift or estate taxes on the transfer. The "first $5.34 million tax free" represents the gift and estate tax exclusion. The exclusion is "unified" which means that whatever portion of the unified exclusion John uses during his lifetime will no longer be available for use at his death. For example:
John makes a lifetime taxable gift of $2 million in 2013. John dies in 2014. John will have $3.34 million of the estate exclusion amount remaining at his death, such that the first $3.34 million of his estate may pass free of federal estate taxes.
Every person is entitled to use the unified exclusion. In the past, when portability did not exist, married couples had strived to take full advantage of both of their estate tax exclusions through estate planning techniques. A common technique was to draft wills whereby the first-to-die spouse's estate would fund a trust, usually called a family or unified credit trust, using the full amount of the exclusion. The balance of the first-to-die spouse's estate would then pass either outright or through a trust to the spouse, taking advantage of the unlimited marital deduction. The result would be that the first-to-die spouse's estate would incur no federal estate taxes.
The lack of portability, however, meant that eventually, depending on the size of the spouses' estates, some portion of the first-to-die spouse's exclusion could go forever unused or some portion of the second-to-die spouse's estate could be subject to the 40% federal estate tax rates. For example:
John dies leaving a $3 million estate, which passes through to a family trust, incurring no federal estate taxes. Without portability, John's remaining exclusion amount of $2.34 million would go unused. Furthermore, if John's wife had a substantial estate in her own right, such that her estate was greater than $5.34 million, her estate would incur estate taxes on the excess amount at a marginal rate of 40%.
2. Portability
If a first-to-die spouse dies in 2014 having not fully used the federal estate tax exclusion, the unused portion can be transferred to the surviving spouse. The surviving spouse's exclusion, for both gift and estate tax purposes, is the sum of his/her own exclusion plus the first-to-die's unused amount.
Thus, in the above example, when John dies leaving a $3 million estate to the family trust and an unused $2.34 million exclusion, John's wife would have a cumulative $7.68 million exclusion to use in the future for lifetime gifts or at her death. On the other hand, if John were to give his $3 million estate outright to his wife at his death, taking advantage of the unlimited marital deduction, then his entire $5.34 million exclusion would be available for his wife to use. She would have a total of $10.68 million in exclusion amount.
There are certain procedural issues to consider when taking advantage of portability, such as the fact that an election must be made by the estate of the first-to-die spouse. Making the election requires the filing of a federal estate tax return even if otherwise unnecessary. Furthermore, there are special rules governing portability where a surviving spouse remarries and has had multiple spouses predecease him or her. These rules must be examined closely when determining which unused exclusion may be used and in future gift and estate tax planning.
3. Planning with Portability
The fact that portability has become permanent certainly creates options in estate planning. While portability should not be the only estate planning tool relied on, it can be integrated with other estate planning techniques.
If you would like to read more of this article and other estate planning and other business law topics, please visit us at http://www.pozzuolo.com
Contact our Philadelphia Estate Planning and Business Law Firm with your questions, comments or concerns.
Pozzuolo Rodden, P.C. provides specialized cost-effective legal services to privately held business owners and high-net-worth clients in Pennsylvania and New Jersey in excess of 35 years.
Practice Areas: Estate Planning | Business/Corporate Litigation | Business/Corporate Law | Family Law/Family Litigation | Real Estate | Employment Law | Tax & Pension Law
Pozzuolo Rodden, P.C.
Counselors at Law
2033 Walnut Street
Philadelphia, PA 19103
215-977-8200
http://www.pozzuolo.com