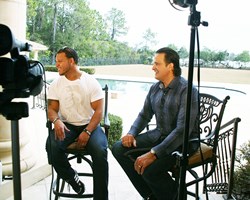 "Elliott is so passionate and committed to helping people become the strongest version of themselves as possible and uses powerlifting strength concepts to get them there!" KC Craichy, Founder & CEO, Living Fuel
Orlando, FL (PRWEB) February 07, 2014
Become The Strongest Version of Yourself!
Strength is much more than how much someone can bench press. Creating the strongest version of yourself is the guiding philosophy of Living Fuel Champion Elliott Hulse, a prolific fitness blogger and internet phenomenon who helps millions by his inspiring and thought-provoking content on his popular YouTube channel, StrengthCamp.
Hulse has won multiple Strongman competitions and teaches others how to become the strongest person they can be at his St. Petersburg, Florida gym and through his YouTube channels.
"My background is in football and strength and conditioning," Hulse told KC Craichy in the first part of the special series seen on LivingFuelTV. In talking about how he helps people become the strongest version of themselves, Hulse said, "I try to get to the core of why we live dysfunctionally. It's very easy to patch things up and to look on the surface of people's behaviors, but what I really like to do is go to the root of why we make the decisions we make."
Craichy is a strength and performance nutrition expert in addition to being the Founder & CEO of Living Fuel - Maximum Human Nutrition.
"Elliott is a fascinating guy," Craichy said. "He is so passionate and committed to helping people become the strongest version of themselves as possible and uses powerlifting strength concepts to get them there!"
Over the next few weeks on LivingFuelTV, you'll get to know Elliott and learn practical and life-changing precepts to strengthen your body, your mind and your spirit for a high performance life. In the first part of the interview series you'll get to meet Elliott, hear some of his background and learn how he fostered discipline to help him reach his goals. The principles you'll learn in this outstanding LivingFuelTV series apply to everyone - men, women, and children.
Watch the first part of the month-long video series here - Strong in Body, Mind & Spirit: Meet Elliott Hulse.
KC Craichy is a health advocate, researcher, and recognized expert on natural health and performance nutrition. His extensive study of leading-edge health research and collaborative work with top medical and nutritional practitioners and researchers to solve his wife Monica's health problems—anxiety, depression, and suicidal thoughts—led him to the answers for Monica's healing and to the founding of Living Fuel, Inc. As a result of overcoming this health crisis, KC and Monica have helped numerous people become overcomers in their own health situations. Together they are now cohosts of the popular Internet TV program LivingFuelTV.
KC is committed to changing lives through multimedia, super health lifestyle education combined with super healthy, high impact superfoods. He also serves on the Nutrition Advisory Board for Titleist Performance Institute as well as on the Clinical Nutrition Review Board (the certifying body of the International and American Association of Clinical Nutrition). A frequent natural health and performance nutrition guest on various TV and radio programs as well as a frequent contributor to national magazines and blogs, KC lives in Orlando, Florida, with his wife, Monica, and their five children.