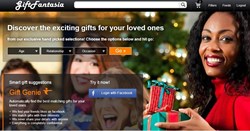 Giftfantasia.com assists people in finding the best gifts for their lovers and thus helps them cherish a memorable and romantic Valentine's Day 2014.
San Jose, CA (PRWEB) February 11, 2014
Love and Romance should be the focal point of this Valentine's Day. Recent survey reveals that most of the American men have a tendency to get their girlfriend/wife flowers, dinner and chocolates. Nevertheless, women want something more creative from their men. The search filters of Giftfantasia helps men to find the ideal gift of his lady love while keeping in mind the personality and age of the women! It is worth trying - just select the age and personality of your woman and start seeing the thousands of gift in the order of relevance.
The search filter of Giftfantasia.com which is also called GiftGinie presents exclusively hand picked for the lady love with multiple options including price range and discount offers. The website offers exclusive products ranging various categories including.
February is the month of love and celebration! If you would not want to rush into any store to grab anything at the last minute and would want something exclusive and special for her, Giftfantasia is there to assist you in this. Giftfantasia present the best deals on Valentine's Day in addition to the perfect gift ideas for loved ones through it's exclusive Discount filter!
Giftfantasia.come present the gift ideas on what type of gifts and romantic places are best fit on this Valentine. This list of romantic gifts will definitely make him/her adore you, check it out under filters and ideas sections.
There are thousand of users already signed up in Giftfantasia and utilizing GiftGinie to get the perfect gift for their friends and loved, so what are you waiting for?