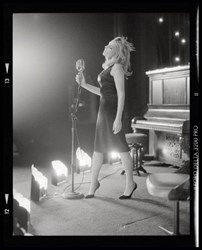 Grammy® Award Winning Jazz Vocalist Diana Krall Performs
Monte Carlo, Monaco (PRWEB) February 11, 2014
Entertainment Cruise Holdings, LLC launches a new luxury travel experience with StarVista Signature Cruises, an extraordinary vacation aboard the Seabourn Sojourn, renowned throughout the world for voyages featuring unparalleled excellence and white glove service. The inaugural StarVista Signature Cruise (http://www.starvistacruises.com) will set sail on September 30, 2014 from Monte Carlo, Monaco, escorting travelers on daily excursions in breathtaking Mediterranean ports of call including Sanary-sur-Mer (France), Marseille, Portovenere (Cinque Terre, Italy), Livorno (Florence/Pisa), Rome, San Remo, St. Tropez, Palamos (Spain) and Palma de Mallorca before landing in Barcelona on October 10th. The luxury vacation is available to only 450 passengers, all of whom will travel in the Sojourn's opulent suites.
The crown jewel of the cruise will be the nightly performances by the world's best jazz artists. Grammy® Award winner Diana Krall will hold a series of intimate concerts exclusively for cruise guests for four nights, while the finest musicians in contemporary jazz will perform for another five nights during the voyage. Krall herself is excited to be performing on the cruise.
"I've never been on a jazz cruise," she says. "I've never been on a cruise except to Antarctica!"
Krall will be joined by vocalist Karrin Allyson, pianist Shelly Berg, trumpeter Randy Brecker, bassist John Clayton, reed player Anat Cohen, trombonist Wycliffe Gordon, drummer Jeff Hamilton and guitarist Anthony Wilson.
"I get to go on this cruise and play with John Clayton, Jeff Hamilton and Anthony Wilson," adds the pianist/singer/songwriter. "How great is that?"
"Developing new cruise programs that deliver an exceptional experience in luxury travel is a natural extension of our overall mission, which is to produce the most exciting music cruises in the world," says StarVista Entertainment/Time Life President Christopher Hearing. Michael Lazaroff, Executive Director of Entertainment Cruise Productions, LLC adds, "Being able to present extraordinary talent onboard such as Diana Krall is a dream come true, creating a vacation unlike any other. Our company is known throughout the world as the leading producer of jazz cruises and this cruise is a natural extension of that mission."
The cruise will also feature a private culinary guide onboard to provide detailed insight into the cuisine of each region and to offer travelers excursions to the most celebrated restaurants in select ports.
About Entertainment Cruise Holdings, LLC:
Entertainment Cruise Holdings, LLC is a partnership between StarVista Entertainment/Time Life and Entertainment Cruise Productions, LLC. Together they have produced the Malt Shop Memories Cruise, Celtic Thunder Cruise, Country Music Cruise and Soul Train Cruise. StarVista Entertainment/Time Life is a division of Direct Holdings Global, a leading multi-channel marketer with a broad portfolio of products and services delivered with a commitment to excellence and integrity. StarVista Entertainment/Time Life is dedicated to producing the highest quality audio, video and live entertainment experiences to help people preserve memories and create new ones. Entertainment Cruise Productions, LLC is the worldwide leader in the production of jazz cruises including The Jazz Cruise (since 2001), The Smooth Jazz Cruise (since 2004) and other specialty cruises such as the Playboy Jazz Cruise and the North Sea Jazz Cruise. More than 70,000 guests have sailed on an Entertainment Cruise Productions, LLC jazz cruise.
###
For further information, please contact:
Jolyn Matsumuro
The Brookes Company
(310) 558-3000 x202
jolyn (at) brookescompany (dot) com