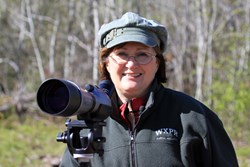 "I couldn't be happier for Laura," says BirdWatching Editor-in-Chief Chuck Hagner, "or for our readers, who can now find four of birding's most highly acclaimed writers in every issue."
(PRWEB) February 11, 2014
Popular writer, tour leader, public speaker, and author Laura Erickson is now the fourth BirdWatching contributing editor to receive the American Birding Association's highest honor -- the Roger Tory Peterson Award.
Erickson's column "Attracting Birds," about attracting, feeding, sheltering, and understanding birds in your backyard, appears in every issue of BirdWatching and on BirdWatchingDaily.com.
The award, not given every year, recognizes a "lifetime of achievements in promoting the cause of birding," according to the ABA. The other BirdWatching contributors who have received the honor are Pete Dunne (2001), David Sibley (2002), and Kenn Kaufman (2008).
Dunne, vice president for natural history information for the New Jersey Audubon Society and director of the Cape May Bird Observatory, writes the column "Birder at Large" for BirdWatching. Sibley, author of the bestselling Sibley Guide to Birds, contributes the regular column "ID Toolkit" while Kaufman, the youngest person ever to receive the ABA's lifetime achievement award, prepares "ID Tips" for each issue.
"I couldn't be happier for Laura," says BirdWatching Editor-in-Chief Chuck Hagner, "or for our readers, who can now find four of birding's most highly acclaimed writers in every issue."
For more information about Laura Erickson and her column "Attracting Birds," contact Editor-in-Chief Chuck Hagner at (617) 315-9160 or chagner(at)birdwatchingdaily(dot)com.
For information about BirdWatching, including editorial, subscription, and advertising contacts, visit http://www.BirdWatchingDaily.com.
BirdWatching is published by Massachusetts-based Madavor Media, which owns enthusiast magazines and web channels across several interest areas, from sports and music to surf fashion and culture to wellness. Additional titles include Jazz Times, Volleyball, Foam, International Figure Skating, Gluten-Free Living, The Writer, and GolfGetaways. Its latest acquisitions include Arthritis Self-Management, Diabetes Self-Management and Diabetic Cooking. For more information, visit http://www.madavor.com or call (800) 437-5828.