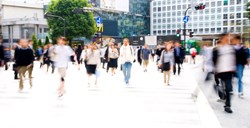 (PRWEB UK) 10 February 2014
Increasingly individuals are leaving university with qualifications and expertise in sectors which are declining, making it increasingly difficult for graduates to find employment.
Due to the downturn in the economy, workers are also finding themselves being made redundant and left with a skill set which is not so easily applied to the expanding sectors.
Ansbury, a leading Dorset careers guidance and advice service, have taken the time to study a recent report produced by Marchmont Observatory, which looks at forecasted growth in relation to jobs across a variety of industries in 2020 within Dorset (Dorset LEP Employment and Skills Strategy Evidence Base Summary Report, produced by Marchmont Observatory. June 2013.)
Ansbury have taken the findings from this report and summarised some of the key industries which will be expanding and contracting by 2020.
This will help their clients to identify which skill sets they may need, in order to increase their chances of securing employment in the future.
According to the report professional occupations are set to grow strongly with an additional:

3,700 jobs created for business, media and public service
3,000 jobs created for teaching and educational professionals
2,600 jobs created for science, research and technology
2,100 jobs created for health professionals
The largest expansion can be seen amongst corporate managers and directors with a projected rise in Dorset of 5,100 jobs across all sectors for these occupation types.
Some occupations are forecast to have decreasing employment levels, with a loss of:
3,100 jobs in the secretarial occupation
2,500 jobs in skilled metal, electrical and electronic trades
2,400 jobs among process, plant and machine operatives
2,200 jobs in textiles/printing
1,100 jobs in sales
600 jobs in leisure and travel
The good news from the report is that although there are losses across some occupations, there is a projected overall increase of 22,800 jobs (6.6%) between 2010 and 2020.
This indicates that the employment prospects within Dorset are slightly higher than the regional and national average.
Looking into specific sectors, Ansbury has noted the following forecasts for 2020 in Dorset.
The engineering sector within Dorset is projected to see a decline in jobs of 24%, with the rest of manufacturing projected a decline of 8%.
Within the financial services sector in Dorset, employment is expected to grow by 9% between 2010 and 2020.
Net recruitment needs will be 6,400 employees – equivalent to 50% of the current financial services workforce.
The construction sector within Dorset is expected to grow by around 24% between 2010 and 2020, adding approximately 5,000 jobs to the current workforce.
The retail sector is growing slowly in comparison with other sectors and is forecasted to expand by 6.6% between 2010 and 2020 creating 2,200 more jobs.
As a holiday destination Dorset traditionally has a higher percentage of people working in the tourism, leisure and hospitality industry than the national average.
The report found that in accommodation and food, employment is expected to grow by 8% which equates to 2,200 jobs.
The net requirement in these sectors over the next 10 years will be significant; about 50% to 60% of the total number of people currently working in the tourism, leisure and hospitality sector within Dorset.
Agricultural, food and drink manufacturing sectors are expected to decline within Dorset between 2010 and 2020, with a forecasted loss of 300 jobs.
The Water and Sewage sector in Dorset LEP is expected to increase by 30%, which will equate to 600 jobs over the forecasted period.
Corporate managers, directors and professionals are the types of jobs which are expanding most within the forecasted period.
Therefore, job hunters in Dorset, whether that is students, graduates or even the current workforce should focus on getting the correct level qualifications to be able to compete for these jobs.
Re-training and keeping up to date with continuous professional development will also be vital in order for employees to remain competitive in case of redundancies.
Independent, impartial careers advisers from companies such as Ansbury make a point of keeping up to date with labour market information and can therefore advise teenagers and adults about appropriate career choices for them.
For more information on how Ansbury can support individuals with career planning, guidance, advice and much more, please visit http://www.ansbury.co.uk/.