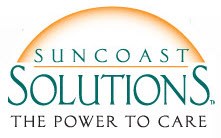 Clearwater, FL (PRWEB) February 12, 2014
The midnight oil is burning at Hospice agencies, and it's not just lighting the way for 24/7 care. Hospice care providers are putting in longer hours on the operations side as they struggle to meet the latest and largest change request (CR) from the Centers for Medicare & Medicaid Services (CMS), CR 8358. Comprising four major reporting requirements, the most urgent focus lies on the requirement to report prescription drugs with detailed claims information, which becomes mandatory on April 1, 2014. With just two months remaining, organizations are feeling the pressure, looking to their electronic medical record (EMR) provider and pharmacy partners to keep them in compliance.
With a strong history of closely monitoring and swiftly adhering to regulations, EMR software provider Suncoast Solutions is ahead of these requirements as a software company focused exclusively on Hospice and Home Care programs.
Solutions has already rolled out their first phase, empowering organizations to coordinate with their pharmacies and receive an electronic file that will automate the transfer of important data securely from the pharmacy to their claims to CMS. This process takes information already being gathered by pharmacies and uses functionality that already exists within Suncoast Solutions for maximum ease of use.
"We are communicating plans to meet regulations with all clients, offering educational courses focused specifically on requirement needs, monitoring all changes through our work with CMS and other organizations like NAHC and NHPCO, and are prepared to release these enhancements in the next few days. Agencies can be confident in their ability to provide compliant care," says Teresa R. Craig, CEO of Suncoast Solutions. As with all major industry changes, strong client collaboration and communication strengthens Suncoast Solutions' strategy to comply with the CR 8358 requirements.
About Suncoast Solutions
Based in Clearwater, Florida, Suncoast Solutions was founded in 1999 and develops and supports software that both facilitates and enhances all facets of hospice and home care management, including clinical, financial, reporting and business intelligence. Suncoast Solutions is dedicated to the home health industry exclusively, serving one in four hospice patients throughout the country.