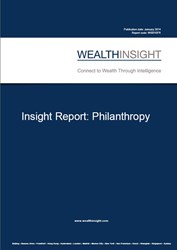 Rockville, MD (PRWEB) February 12, 2014
Insight Report: Philanthropy
The philanthropy market has been of much discussion between high net worth individuals (HNWI's) and wealth advisers. With tax benefits being key reasons in the past for philanthropic giving, this has been found to seriously undermine the donor in a number of ways.
With a history of philanthropic involvement and a well established market, the US and Europe make up 60% of the HNWI's around the globe. It should be noted, however, that emerging economies such as China and India also account for a considerable number of HNWI's who are primarily focused on accumulating wealth, rather than charitable donation. Other notable regional patterns include those of Latin American and African nation whom are significantly reliant on the church or the government for the development of their socio- economic status. However, this scenario has been changing rapidly since the beginning of the century.
As a consequence of the economic growth in the last two decades in these regions, philanthropic involvement from HNWI's has increased, a pattern which is expected to continue between 2013-2017. These emerging economies are also noting an influx of wealth management firms to provide the necessary required products and services required in the relative region.
To order this report:
Insight Report: Philanthropy
Contact: Shauna
800.298.5699
Customerservice(at)marketresearch(dot)com
WealthInsight
WealthInsight provides detailed data and insightful analysis on the global wealth sector. With decades of experience providing business information, we help organizations in the wealth industry make informed decisions, position themselves more effectively and uncover and capitalize on opportunities to win new business.
About MarketResearch.com
MarketResearch.com is the leading provider of global market intelligence products and services. With research reports from more than 720 top consulting and advisory firms, MarketResearch.com offers instant online access to the world's most extensive database of expert insights on global industries, companies, products, and trends. Moreover, MarketResearch.com's Research Specialists have in-depth knowledge of the publishers and the various types of reports in their respective industries and are ready to provide research assistance.
Follow us on Facebook http://www.facebook.com/marketresearchdotcom.
Follow us on Twitter http://www.twitter.com/marketresearch_.
Insight Report: Philanthropy - Table of Contents:
1 Introduction
2 Executive Summary
3 The Role of Wealth Management Firms in Philanthropy
4 Global Snapshot
4.1 Overview
4.2 The Current State and Scope of HNWI Philanthropy Worldwide
4.3 The Americas
4.4 Asia-Pacific
4.5 Europe
4.6 The Middle East and Africa
5 Current Giving Patterns and Family Values
6 About WealthInsight