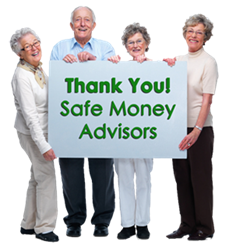 "Projections are based on past performance between eight and10 percent, and the client is relying on that. Unfortunately, the market fluctuates, and there's nothing guaranteed about Lifetime Income from an IUL"
Cherry Hill, NJ (PRWEB) February 11, 2014
With a variety of different options available, many people find it hard to determine which type of life insurance policy is right for them. Now Safe Money Resource offers a guide, "Understanding The Basics of Life Insurance," on its safemoney.com website.
"It's important to choose the right life insurance policy, and avoid the pitfalls associated with some types of policies," said Wealth Planner Brent Meyer. "I founded Safe Money Resource in 2012 to help educate pre- and post-retirees on the best ways to assure they'll have enough retirement income to live comfortably. Buying the wrong insurance policy can have devastating effects, and not all insurance policies are created equal. It's important to do your own research before you spend your hard-earned money on a policy that may not perform as expected."
Meyer warns investors to be wary of buying a life insurance policy that's presented as a method of providing a life time income for their retirement.
"Every product available on the market has its own purpose and place in your retirement portfolio. A diversified balance of accounts is required to assure a comfortable retirement income," said Meyer. "Although some financial advisors are promoting Indexed Universal Life policies as a 'one size fits all' source of guaranteed income, life insurance is not a guaranteed retirement income planning tool, it may be a supplement but not a solution."
Meyer explained that when these types of policies are presented to the consumer, the potential income from an Indexed Universal Life (IUL) policy is always sold based on a projection which is determined from past index performance; if the IUL does not perform as it did in the selected past that was illustrated to the client, than the income needed for that person will not be there. Therefore, what the consumer is relying on for income - and was promised by their advisor - may not be there. It is not guaranteed.
"IUL Projections are being sold and based on a past performance between eight and 10 percent, and the client is relying on that, expecting to receive income using those figures," Meyer said. "Unfortunately, the market fluctuates, and there's nothing guaranteed about it. You can't predict the future from the past. When you need a lifetime income, you can't rely on a prediction, you need a guarantee. And annuities are the only product that can guarantee an income for as long as you live."
Investors need to focus on using their life insurance policy to provide for their beneficiaries, he explained.
In safemoney.com's "Understanding The Basics of Life Insurance," Meyers explains the various forms of life insurance, with the goal of helping investors learn what questions they need to ask their financial advisor to make the best decision for their particular situation.
"Choosing the right life insurance policy can be confusing," said Meyer. "My goal is to give consumers the information they need to ask the right questions. That's what Safe Money Resource is all about – education is empowerment."
Safe Money Resource's "Understanding The Basics of Life Insurance" can be found online at http://safemoney.com/life-insurance. The website also offers visitors the option of instantly comparing personalized quotes from top insurance companies and well qualified advisors at http://safemoney.com/term-insurance-quotes.
ABOUT SAFE MONEY RESOURCE
Safe Money Resource and safemoney.com, is a much-needed resource for the Baby-Boomer generation of retirees and is comprised of independent agents who are defined by their integrity, knowledge and ethics. Safe Money Resource operates on the belief that education is empowerment.