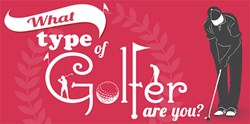 (PRWEB) February 11, 2014
Golf has many characters and many stereotypes that are often discussed over a round of drinks. But which is the most common?
The staff at golf insurance provider, Golfplan Insurance, are hoping to produce an answer to this with a light-hearted quiz based on insight and data.
This quiz proposes nine different scenarios that pretty much every golfer will have experienced at some point or another. For each scenario there are four possible outcomes, each adding to a certain profile. At the conclusion of the round of nine scenarios, a result is punched out.
Golf is like most sports, or indeed professions, in that it brings together a myriad of different people from all walks of life.
However, golf is unique in that it lets the golfer's personality take centre stage. Perhaps because it is an individual sport or it could be something to do with the extended periods of play.
Whatever the reason, golf is a game that it lets ones personality shine through.
This is why, the people at Golfplan have done some data capture for all countries in the world and are hoping, from this, to discover more about the most popular stereotype.
Having conducted research and analysis, Golfplan have created not just authentic profiles, but also scenarios that most golfers can relate to.
For anyone wanting to take the quiz to find out what golfing profile they fit and perhaps friends too: golfplan.co.uk/golf-quiz
About Golfplan
Golfplan has been a leading provider in the golf insurance market since 1984 and is the only PGA approved supplier of golf insurance.  It offers top class, flexible and competitively-priced policies to golfers of all ages and requirements.  Comprehensive coverage is backed up by experienced, knowledgeable staff, delivering levels of customer service which are unrivalled in the golf insurance market. Our in-house claims service works directly with PGA golf professionals to offer you efficient equipment replacement and complete peace of mind.  Golfplan is a trading name of K. Drewe Insurance Brokers Limited who are authorised and regulated by the Financial Services Authority.  K. Drewe Insurance Brokers Limited is part of the Canopius Group.  golfplan.co.uk
About Canopius
Canopius Group Limited is a privately-owned insurance and reinsurance group which underwrites a diversified portfolio of business from its operations at Lloyd's and around the world. It has achieved significant growth over the last ten years through a mix of organic expansion and acquisition and has total financial resources of over £500 million.  Incorporated in Guernsey, the Group operates in the UK, Ireland, Switzerland, Bermuda, US, Singapore and Australia.   Canopius is currently majority owned by funds managed by Bregal Capital LLP. Canopius management owns a 5% share. On 18 December 2013, NKSJ Holdings announced that it has signed an agreement, through its insurance subsidiary Sompo Japan Insurance Inc. to purchase 100 per cent of the shares of Canopius Group Limited. Subject to regulatory approval, the transaction is expected to close in the second quarter of 2014.
The Group comprises three strategic business units: Global Property; Global Specialty and UK Specialty.   canopius.com