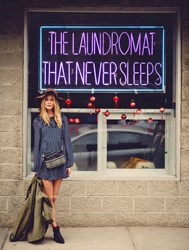 Philadelphia, PA (PRWEB) February 10, 2014
Just in time for Valentine's Day, specialty clothing brand, Free People, releases a new short film titled, 'Spark,' starring fashion icons Poppy Delevingne, Nicole Trunfio, and many more. The romantic film is a light-hearted series of shorts depicting that charming moment when eyes meet and sparks fly. To launch the short, Free People has partnered with Cameo.tv, a new video sharing app that allows users to easily create short films, share, and co-produce videos with friends.
Watch and share 'Spark' here.
'Spark' Synopsis:
What was it for you? A drawn out flirtation, a sweet gesture from a stranger, or a spur of the moment heated kiss? In Free People's new short film, 'Spark,' the brand offers a jovial look at taking a chance on love and that moment in time when it all happens. From flirty co-workers, to silent laundromat companions, to two friends who put it all on the line, the video showcases a fun take on the ways in which love can blossom in an instant. Watch as each couple plays the game, and fall in love all over again.
In partnership with Cameo, Free People is offering fans the chance to share their own love story videos. Fans are invited to shoot and share videos of their own personal 'spark moments' through the Cameo app. Using the hashtags #freepeople, #spark, and #lovestory, the videos will be compiled and edited using the app to create a crowd-sourced compilation of all the brand's favorite shorts. Cameo is the first app to bring professional grade video effects and styles to users of any skill level, so fans are able to join in the fun with ease.
For more information, images, to request an interview, please call Katelyn Brehony at 215-454-4979 or email kbrehony(at)freepeople(dot)com.
'Spark' Credits:
Actors:
Poppy Delevingne and David Flinn
Michele Ouellet and Justin Passmore
Nicole Trunfio, Matt McIntyre, and Carson Kelley
Sharam Diniz and Miles Garber
Director of Photography & Director: Carlos Veron
Edit: Ryan McKenna
Art Direction: Free People
Producer: Carl Walters
Hair: Amy Farid and Britney Williams
Makeup: Deanna Hagan
First AD: Ben Kahn
Colorist: Michael Rossiter
Music: The Prettiest Thing, by Oh Darling
About Free People
Free People is a specialty clothing brand featuring the latest trends and vintage collections for women who live free through fashion, art, music, and travel. The eclectic look consists of quality apparel, shoes, and accessories that invoke attributes of femininity, spirit, and creativity with its design. Free People is distributed globally via direct channels including the Free People Global site and Free People UK site, as well as specialty boutiques, top department stores, and the brand's free standing retail locations in the U.S. and Canada.
About Cameo.tv
With Cameo, anyone can shoot, edit and share short films in minutes.
Cameo.tv is a video mobile application that allows users to shoot, edit, and share short films in minutes. Cameo is the first app to bring professional-grade effects such as video overlays, custom themes, title cards, and custom fonts to users of any skill level. The app makes it easy to not only record and edit 720p HD videos up to two minutes long, but also share them with friends and followers on the Cameo network and the web. Using Cameo's innovative cloud-based technology, videos are processed lightening-fast while preserving the phone's storage and battery life. Named "Best of 2013" in video by the App Store, Cameo recently surpassed over 2 million video views within only three months of its release.