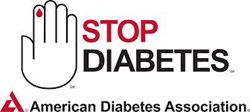 Tour de Cure participants register and recruit friends, co-workers, and associates to ride and raise money.
Rhinebeck, NY (PRWEB) February 07, 2014
Topical BioMedics has formed "Team Topricin" to participate in the 2014 Saratoga Tour de Cure. The company invites others to join their team and is seeking sponsorship donations to Stop Diabetes® and raise critical funds for diabetes research, education and advocacy in support of the American Diabetes Association (ADA).
Tour de Cure is the American Diabetes Association's signature fundraising cycling event that raises money to help change the future of diabetes and stop its devastating complications. With strong support from corporate and family teams across the country, this event raises over $26 million annually to find a cure for diabetes and support the ADA's mission.
Tour de Cure participants register and recruit friends, co-workers, and associates to ride and raise money. The day of the event is a chance to ride and to celebrate the fundraising accomplishments of the team and individual participants as well as an opportunity to promote awareness about diabetes and the ADA.
Topical BioMedics teamed up with the ADA's Saratoga 2013 Tour de Cure as a "RED RIDER" Sponsor. A Red Rider is a participant that has Type 1 or Type 2 diabetes. Last year's event drew more than 2,400 cyclists from New York, Massachusetts, and Vermont, and raised more than $1 million, making it the second largest fund raising ADA chapter in the country for 2013.
This year, Topical BioMedics increased its support by forming "Team Topricin" to ride during the event, which takes place on June 1, 2014 in Saratoga Springs, NY. The Saratoga riding course ranges from a leisurely 10 mile route to a challenging 100 mile ride, enabling riders of all levels and ages to participate, from occasional riders to experienced cyclists. Routes will feature rest stops with food to fuel the journey and volunteers to cheer riders on. For those who wish to support the event but not ride an outdoor route, the Tour de Cure offers an exciting indoor "spin cycling" opportunity, as well.
To join Team Topricin or offer a donation, visit http://www.teamtopricin.com. Topical BioMedics will pay the $15 registration fee for the first 100 people who register (enter discount code: Topricin). Monies raised fund research for a cure, information to help prevent diabetes, advocacy for those affected by diabetes and public awareness activities.
Nearly 26 million Americans suffer from diabetes, which is the seventh leading cause of death by disease in the United States. "We are honored to join forces with the American Diabetes Association in the fight to Stop Diabetes and help raise critical funds for diabetes research, education and advocacy," says Lou Paradise, Topical BioMedics' president and chief of research.
The company's line of Topricin natural biomedicine formulas are safe for diabetics, and patented for the topical treatment of neuropathy. "Unfortunately, many individuals with diabetes experience neuropathic pain, which can be extremely debilitating," says Mr. Paradise. "Our Foot Therapy formula addresses peripheral neuropathic pain and neuroma, and is soothing and healing to the skin. Importantly, it also reduces the need/dependency for all classifications of oral pain medications, including opiates."
ABOUT TOPICAL BIOMEDICS:
Topical BioMedics is the research and development leader in topical patented natural biomedicines for pain relief. The company's flagship product, Topricin® Pain Relief and Healing Cream, was introduced in 1994 and is now a leading natural therapeutic brand. Designated as "The 21st century standard of care for pain management" by Woodson C. Merrell, MD (Chair, Department of Integrative Medicine, Executive Director, Continuum Center for Health & Healing, Beth Israel Medical Center). Topricin has the distinction of being the only topical patented for the treatment of the pain associated with neuropathy and fibromyalgia. Other formulas in the product line include Topricin Foot Therapy Cream and Topricin Junior for children (with 5% sales donated to pediatric cancer foundations).
All Topricin products are made in the U.S.A., formulated with approved medicines as found in the HPUS (Homeopathic Pharmacopoeia of the United States) and are in compliance with federal rules for homeopathic over-the-counter medicines. The products contain: no parabens, petroleum or harsh chemicals, are odorless, greaseless and non-irritating, and produce no known side effects, making them ideal and safe for the entire family.
Topricin is available in pharmacies, natural food stores, and retailers nationwide, including Whole Foods, The Vitamin Shoppe, Fred Meyer, Wegmans, CVS (Foot Care Section), Walgreens (Diabetic Section) and other fine stores, as well as directly from the company. For more information, visit http://www.topricin.com.
To make a donation pledge or join Team Topricin at the 2014 Saratoga Tour de Cure visit http://www.teamtopricin.com or call 800-871-4900 ext. 1113.
ABOUT THE AMERICAN DIABETES ASSOCIATION:
The American Diabetes Association (ADA) is the nation's leading nonprofit health organization whose mission is to prevent and cure diabetes and to improve the lives of all people affected by the disease.
Founded in 1940, the Association serves the community by funding research to prevent, cure and manage diabetes, providing credible information about the disease, giving voice to those denied their rights because of diabetes, and delivering services to people with diabetes, their families and health care professionals.
For more information on the American Diabetes Association visit http://www.diabetes.org.