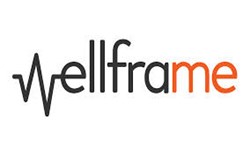 "Wellframe is all about connecting people - people wanting to give care and people needing care."
Boston, MA (PRWEB) February 10, 2014
Wellframe, a Boston-based company that combines mobile devices and artificial intelligence to amplify caring relationships by engaging patients in personalized care plans, today announced that the Wellframe Mobile Platform for Care Management and Patient Engagement has been integrated into the cardiac rehabilitation program at South Shore Hospital. The platform is being utilized by clinicians to extend services to cardiac rehab patients in between rehab visits. The Wellframe's mobile platform integrates mobile technologies with artificial intelligence to allow clinicians real-time interaction with patients on such topics as daily exercise completed and planned attendance at cardiac rehab. This improves patients' adherence to the care plan, and fosters mutual communication and transparency between clinician and patient.
South Shore Hospital, in conjunction with Brigham Women's Hospital, conducted a pilot clinical trial using Wellframe's mobile platform. The clinicians saw a significant increase in patient retention and compliance with cardiac rehab care plans among those patients who utilized Wellframe's mobile platform. This is important because nationally less than 25% of the 2 million patients that are eligible for cardiac rehab participate, despite evidence indicating that these types of programs have been shown to reduce risk of 5-year all-cause mortality by over 25%.
"We are thrilled with the impact that implementing the Wellframe platform has had on our clinic and the quality of care we are able to provide to our patients," said Karen LaFond, Nurse Manager at South Shore Hospital and Co-President of the Massachusetts Association of Cardiovascular and Pulmonary Rehabilitation. "Wellframe's mobile care delivery platform has helped us lower the barriers to participation in our cardiac rehab programs. This has enabled our staff to better serve patients who would otherwise not have been able to attend the programs as often in person because of conflicting obligations, such as work or family responsibilities. We see this type of technology as the future of long term care for people with heart disease."
Following a cardiac event that led to surgery in order to implant stents, Dr. Michael Thomas, DDS was referred to the South Shore Cardiac Rehab program, where he joined the Wellframe pilot clinical trail. "My goal going into the program was to learn what I was able to do and what limitations I might have. They went over eating habits and working with a heart condition, including what to do and what not to do," Dr. Thomas said. "I found the Wellframe app really helpful. The app kept reminding me of what to do, got me in a routine and got me in the habit of taking my meds."
The Wellframe Mobile Platform for Care Management and Patient Engagement enables healthcare professionals to reach and engage more patients in a more effective and efficient manner. "By better connecting patients and clinicians, we give clinicians unprecedented insight into what and how patients are doing day-to-day, and help patients feel cared for after they leave the hospital and between visits to the clinic," said Jacob Sattelmair, CEO Wellframe. "Our aim is to use technology to amplify human care in ways that improve outcomes for patients and reduce costs for healthcare stakeholders bearing risk."
"After I had my procedure, I followed all of the directions that they gave me at the clinic. I had no goal in mind except to get better- and they told me I would," said Arthur O'Leary, a patient in the South Shore Cardiac Rehab program. "I had to change my diet to low fat and low salt, and regularly exercise. You have to be vigilant and diligent as far as your diet and exercise. Wellframe is a great reminder and helped me a lot. No question about it that those reminders pushed me. I enjoyed using it and found it easy to use."
The company has also expanded its clinical program offerings into numerous other clinical conditions including CHF, COPD, hypertension, diabetes, mental illness and others. Wellframe's mission is to enable clinicians to more effectively manage the moments between a patient's direct interactions with the healthcare system in order to help patients feel better connected with their care team and to receive clinical support on a daily basis.
"Wellframe is all about connecting people - people wanting to give care and people needing care," said Trishan Panch, MD, MPH, Wellframe Chief Medical Officer. "In clinical practice we have only been able to connect with people in person, which is not always convenient, or by phone, which is impersonal and often inefficient. The Wellframe platform brings the richness of an in-person clinical encounter right into patients' pockets. Clinicians and patients develop closer, longer-lasting relationships, leading to significantly improved outcomes."
For more information on Wellframe, please visit http://wellfra.me/.
About Wellframe
Wellframe is a Boston-based Health Technology company that combines mobile technology, artificial intelligence and human-centered process design to connect people and amplify care. Wellframe's Harvard and MIT trained team is supported by investors and advisers who are successful leaders in enterprise health and tech. Wellframe has completed successful clinical trials with top-tier academic medical centers and is partnering with leading risk bearing entities.
For more information, visit http://wellfra.me/.
About South Shore Hospital
South Shore Hospital is a 378-bed, not-for-profit, tax-exempt, charitable provider of acute, emergency, outpatient, home health, and hospice care to the people of Southeastern Massachusetts. South Shore Hospital's home care division includes South Shore Visiting Nurse Association, Hospice of the South Shore, and Home & Health Resources. The hospital's 900-member medical staff represents all leading medical specialties. South Shore Hospital employs 3,800 people, supported by a team of 700 volunteers. South Shore Hospital is licensed to provide Level II Trauma care and Level III Maternal/Newborn care. South Shore Hospital has been ranked among the top three hospitals in Massachusetts, according to the 2012 U.S. News & World Report Best Hospitals report and named a Top Place to Work by The Boston Globe. Please call (781) 624-6673 or visit southshorehospital.org for a referral to a South Shore Hospital physician.