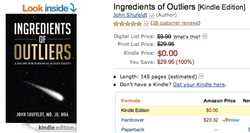 "We plan to publish a number of books over the course of 2014, with the second book, The Ingredients of Outliers for Young Adults: A Student Handbook for Success, being released in March." - John Shufeldt, Author of The Outliers Series
Scottsdale, AZ (PRWEB) February 07, 2014
Outliers Publishing announced today it will offer Ingredients of Outliers: A Recipe for Personal Achievement, the first book in the Outliers Series, as a free Kindle e-book download on Amazon.com from February 7-9, 2014. Ingredients of Outliers can be downloaded free from Amazon.com to any Kindle or device with a free Kindle reader application by visiting the book's Amazon page.
Released in June 2013, Ingredients of Outliers is a guide packed with accounts from author John Shufeldt's personal endeavors, as well as those of historical figures and influential acquaintances. Ingredients of Outliers is a compilation of thoughts, tips and techniques to guide individuals toward finding the ingredients for the "secret sauce" that makes a someone stand out as an outlier. The Ingredients of Outliers publication is the foundation for all the upcoming books in The Outliers Book Series.
According to Shufeldt, the goal of the book giveaway is to increase awareness of the Ingredients of Outliers book, and the upcoming Outliers Series.
"We plan to publish a number of books over the course of 2014," says Shufeldt. "With the second book, The Ingredients of Outliers for Young Adults: A Student Handbook for Success, being released in March."
Shufeldt says Ingredients of Outliers and Ingredients of Outliers for Young Adults will be followed by at least eight other books this year. The subsequent books in the series will introduce students, or prospective professionals of any age to insider tips on becoming an outlier in their desired profession. Readers can expect the Outliers Series to cover careers in: medicine, law, sports, design / engineering, the arts / entertainment, entrepreneurism / business, service to mankind/ to country, writing / journalism, and travel / leisure. For updates on publishing dates, visit the "Blog & News" section on http://www.ingredientsofoutliers.com.
To learn about future promotions on the books in the Outliers Series, visit Facebook at https://www.facebook.com/readingredientsofoutliers or the Ingredients of Outliers Blog at http://www.ingredientsofoutliers.com/blog/.
About the Author:
The Outlier Series is written by John Shufeldt, MD, JD, MBA, FACEP, who is a practicing physician and attorney, as well as a pilot (both plane and helicopter) and business entrepreneur. He is the Principal of Shufeldt Consulting, MeMD, Urgent Rad, Urgent Care Integrated Network, and FindUrgentCare. Shufeldt is also an adjunct professor at the Sandra Day O'Connor College of Law where he teaches a clinic on Health Law Entrepreneurism. He serves on the Drake University Board of Trustees and the Sandra Day O'Conner College of Law Alumni Board.