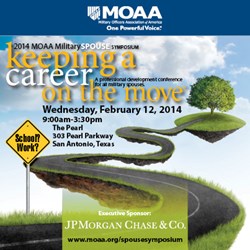 We have designed a day to inspire and empower military spouses wherever they may be in their career ambitions.
Alexandria, Va. (PRWEB) February 07, 2014
Military Officers Association of America (MOAA) is hosting two free military spouse events in San Antonio: the Military Spouse Networking Event on Tuesday, Feb. 11, from 6 p.m. to 8 p.m. at La Quinta Inns & Suites, 303 Blum Street, and the 2014 Military Spouse Symposium "Keeping a Career on the Move," on Wednesday, Feb. 12, from 9 a.m. to 3:30 p.m., at the Pearl, 303 Pearl Parkway, San Antonio.
Both events are free and open to all active duty, reserve, National Guard, retiree, veteran, and surviving military spouses, servicemembers, and veterans. Complimentary parking, food, beverages and giveaways are included at both events. Business attire is recommended.
At the Feb. 11 Military Spouse Networking Event, sponsored by La Quinta Inns & Suites, military spouses will have the opportunity to expand personal networks and create new business opportunities by interacting with local and national employers, higher education institutions, military community representatives and other military spouses. Attendees are encouraged to bring their business cards and copies of their résumé.
The Feb. 12 Military Spouse Symposium will begin with an announcement of the results of the Military Spouse Employment Survey cosponsored by MOAA and Syracuse University's Institute for Veterans and Military Families (IVMF). This major national study will shed light on issues related to military spouse employment.
The mayor of San Antonio, Julián Castro, will address the audience following a panel focusing on state policies and national programs that assist military spouses.
Military spouses looking for a job now or preparing for a future career can attend informative workshops and speak with experts and employers who can offer assistance. The opportunity for five minute résumé critiques and professional LinkedIn photo shoots will be available throughout the day.
A complimentary working lunch will be provided as keynote speaker, Jessica Herrin, CEO and founder of Stella & Dot, discusses life as an entrepreneur and working mother.
"I want to thank our executive sponsor JPMorgan Chase & Co. for making this award-winning event possible. We have designed a day to inspire and empower military spouses wherever they may be in their career ambitions," MOAA President Navy Vice Adm. Norb Ryan said. "I would like to thank La Quinta Inns and Suites for hosting the Networking Event, our gold sponsor Mercer Consumer and our bronze sponsor Sittercity for their support as well," he continued.
# # #
About MOAA:
Military Officers Association of America (MOAA) is the nation's largest officers association with more than 380,000 members from every branch of service, including active duty, retired, National Guard, Reserve, and former officers and their families and survivors. MOAA is a nonprofit and politically nonpartisan organization and an influential force in promoting a strong national defense. MOAA represents the interests of service members and their families in every stage of their lives and careers, and for those who are not eligible to join MOAA, Voices for America's Troops is a nonprofit MOAA affiliate that supports a strong national defense. For more information, visit http://www.moaa.org or http://www.voicesfortroops.org/.
Media Note: All media, who are interested in attending the event, please email name, outlet and contact information to pr(at)moaa(dot)com. The Media Registration Table will be located in the front foyer of the Pearl Stable to the left. PR staff can assist you with meeting subject matter experts and other interview candidates at the event.