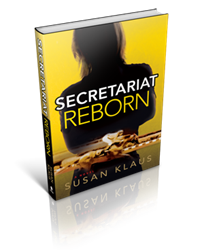 "There's a whole lot of plot stampeding toward the finish line here…if you just loosen your grip on the reins and let the narrative run free, you'll find yourself having a good time."—Booklist
Longboat Key, FL (PRWEB) February 07, 2014
Oceanview Publishing author, Susan Klaus, will be appearing at the following venues throughout Florida, during the month of February:
Saturday February 8, 2014
CRACKER FAIR
10 a.m. to 4 p.m
Dearborn Street, Englewood, Florida
The Cracker Fair is a celebration of old Florida history
Feb. 9 - Hit Classic Horse Show in Ocala, Florida
13710 North Us Highway 27
HITS Post Time Farm
Ocala,Florida
Feb. 15 - Parker Books
1488 Main St, Sarasota, FL 34236
Phone:(941) 366-2898
Feb. 23 Sarasota Polo Club
8201 Polo Club Ln
Sarasota, FL 34240
Phone:(941) 907-0000
Feb. 28 - March 2 Sleuthfest
Wyndham Grand Orlando Resort Bonnet Creek
14651 Chelonia Parkway Orlando, FL 32821
1-407-390-2300
Susan Klaus is the author of SECRETARIAT REBORN.
The Buzz...
"Klaus crams a lot into her debut thriller, which combines thoroughbred horse breeding, mob skullduggery, and a love-crazed stalker…thanks to Klaus's infectious love of the Florida setting, the horse-breeding milieu, and her handsome protagonist."
—Publishers Weekly
"Secretariat Reborn is a galloping read and sure to be a winner."
—Fresh Fiction
"Secretariat Reborn by Susan Klaus carries a finely tuned plot."
—Bookloons.com
"In the high-stakes world of fiction writing, Secretariat Reborn is a darn good bet."
—Florida Weekly
"There's a whole lot of plot stampeding toward the finish line here…if you just loosen your grip on the reins and let the narrative run free, you'll find yourself having a good time."
—Booklist
The Story...
Christian Roberts, lanky, blond, and twenty-five-years-old, rents out small sailboats on Sarasota Bay. His peaceful life is shattered when he accepts a Thoroughbred colt from his estranged, dying father, an Ocala horse trainer.
When Christian promises his father that he'll race the colt, he's plunged into the underworld of horse racing. To navigate his way he naively hires Ed Price, a heartless Miami trainer. And when his colt shows potential—a surprising resemblance to Secretariat—a dubious wealthy sheik wants to buy him, but Christian vows to keep his promise to his father. With a sizable debt still owed on the horse, Christian is forced to take out a loan, his only recourse, Vince, a New York mobster. If the money is not repaid on time, Christian's life and that of Allie, his colt's trainer, are threatened.
To add to his roller-coaster of troubles, he faces fraud charges since his father illegally registered the colt, and he is being stalked by a psychotic ex-girlfriend.
About Susan...
Susan Klaus, a native of Sarasota, Florida, has a long and extensive history of working with animals. She's managed and co-owned a horse farm, breeding and racing Thoroughbreds for the past thirteen years and is currently raising rodeo bulls. Klaus is the author of four sci-fi novels and is the host and co-producer of Author's Connection a radio show with listeners in 148 countries. Secretariat Reborn, Klaus's first thriller novel, reflects the expertise of her personal immersion in the world of Thoroughbred breeding and racing. Susan will release her second thriller in the Christian Roberts series, SHARK FIN SOUP, through Oceanview Publishing, available nationwide, on August 5, 2014
SECRETARIAT REBORN is available through public libraries and all better booksellers.