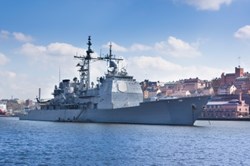 Navy veterans born in the baby boomer era are amongst the highest percentage of those diagnosed with mesothelioma.
(PRWEB) February 11, 2014
One of the most deadly forms of lung cancer is known as mesothelioma and it is no stranger to the post World War II baby boomer generation. There has been an increased correlation between people born during the 1940's and 1950's and the numbers of diagnosed mesothelioma cases. There are many factors that can cause lung cancer, but for mesothelioma, there is one cause: asbestos.
Being exposed to asbestos for a lengthy amount of time is directly connected with causing mesothelioma. Even though today's society has been actively working in asbestos free environments, the baby boomers did not have this luxury. Most of the baby boomer generation had begun working in the 1960's and certain jobs required high exposure to asbestos. Rudolph Migliore stated, "It is known that asbestos illnesses usually begin to develop within 20 to 40 years after being exposed, which means most diagnosed patients are in their 60's 70's and 80's -- precisely the ages of the baby boomer generation." Asbestos exposure often occurs in many different areas of work and according to The Institute of Cancer Research, "The researchers have calculated that men born in the 1940s who worked as carpenters for more than 10 years before they reached 30 have a lifetime risk for mesothelioma of about one in 17. For plumbers, electricians and decorators born in the same decade who worked in their trade for more than 10 years before they were 30, the risk is one in 50 and for other construction workers one in 125." In addition, to civilian professions many people who served in the military were also affected by asbestos, especially navy veterans. Former naval seaman are amongst the highest percentage of diagnosed with mesothelioma as stated by The Naval Mesothelioma Center, "It is estimated that about 30 percent of all cases of mesothelioma - asbestos-related cancer - are diagnosed in veterans, especially those who served during peak asbestos use, which encompassed the 1940s to the 1970s. More than half of those 30 percent who have developed mesothelioma are Navy veterans."
The Commack, NY law firm of Rudolph F.X. Migliore, P.C. is currently investigating cases involving asbestos related illnesses such as lung cancer or mesothelioma, on behalf of all people who were exposed to asbestos in the past.
About Us - Rudolph F. X. Migliore, P.C.
In the spring of 1998, the firm began accepting asbestos, mesothelioma and lung cancer-related cases. Rudolph F. X. Migliore, P.C. had conducted a medical screening of retired firefighters exposed to asbestos for the first time in 1998. Out of 210 men who screened, 71 tested positive for asbestosis and filed proceedings accordingly. The law office of Rudolph F. X. Migliore, P.C. extends its practice of legal services to medical malpractice, defective medical products and medication, and criminal defense and traffic.