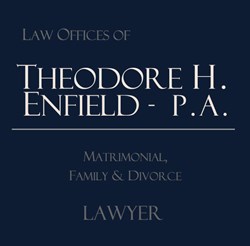 MIAMI, FL (PRWEB) February 10, 2014
Modern marriages face many different challenges than marriages did decades ago. With more complicated and undefined gender roles, economic strains, longer and more expensive education for children, and unforeseen societal changes, more marriages are becoming unbalanced. As a result, many couples seek counseling to resolve their issues. However, sometimes it becomes apparent that for whatever reason, whether it was because they married the wrong person or because neither party was ready, couples decide to end their marriages. This process can often get ugly, but it doesn't have to be; family counselors can work with a divorce attorney like Theodore Enfield to make the process happen without an abundance of bitterness.
This is why Theodore Enfield, a legal counselor who also practices Florida child custody, now provides advice for calm, positive, and peaceful legal counsel for divorce. In states like Florida, while many people decide to represent themselves, professional lawyers like Theodore Enfield make the process go faster and can more readily secure a settlement that works for both parties.
If there are children involved, it is especially necessary to have a good lawyer. Florida child custody laws can be complicated, and as a result, former spouses can find many reasons to disagree. Family law attorneys like Theodore Enfield provide a level-headed, emotionally detached perspective on these issues, and can therefore help interpret the law in a way that works out for everyone.
If clients willingly share the truth of their situation, lawyers like Theodore Enfield can represent them effectively. Some reasons for marriage annulment or divorce include fraud, incest, bigamy, impotence, lack of consent, mental illness or insanity, and the influence of drugs/alcohol.
As a divorce lawyer - Theodore Enfield stands apart in that he provides assurance, goodwill, and trustworthy legal counsel for people seeking a professional to represent their case before the courts of Florida.
Some of the factors Florida courts consider in making a decision on a divorce case are the ethics of the man and woman who are involved; the health, mental and physical, of said people; the finances and any agreements made thereto; abuse, whether physical, emotional, sexual or otherwise. Florida alimony laws are also crucial in cases like this, and Theodore Enfield is an expert in such matters as well. Alimony is a taxable financial consideration paid by one former spouse to another, and can be crucial to the futures of any children involved.
Theodore Enfield's website can be found at http://www.theodoreenfield.com/. He can be called for a free consultation at 305-933-9592 or 1(800) 733-5299.