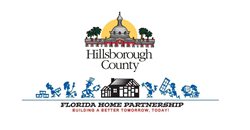 We are excited for this partnership opportunity with Hillsborough County to expand our affordable housing services and assist a whole new segment of the community. - Earl Pfeiffer
Tampa, FL (PRWEB) March 10, 2014
Through a request for proposals in December 2013, the Hillsborough Board of County Commissioners (BOCC) approved a contract with Florida Home Partnership, Inc. (FHP), a nonprofit Community Housing Development Corporation, to provide management services of the Owner Occupied Housing Rehabilitation Program in Hillsborough County. Earl Pfeiffer, executive director of FHP, commented, "We are excited for this partnership opportunity with Hillsborough County to expand our affordable housing services and assist a whole new segment of the community."
Low income Hillsborough County residents have the opportunity to apply for financial assistance to correct housing violations with repairs that meet the minimum housing standards of Hillsborough County. Financial assistance is provided in the form of 0% interest loans and grants. The housing rehabilitation services include determining client and property eligibility, needs assessments through home inspections, contractor vetting and selection, and construction monitoring. FHP has hired and dedicated three staff towards managing the program.
The Owner Occupied Housing Rehabilitation Program is provided to eligible residents living in Hillsborough County, Florida, not including the City of Tampa.
The program services are available Monday through Friday 8:00 AM – 5:00 PM and is designed to:

Bring properties up to minimum housing codes,
Eliminate emerging housing code violations,
Eliminate conditions having a demonstrative blighting influence,
Adapt the residence to meet accessibility needs of a handicapped family member,
Eliminate emergency housing conditions that present a serious threat to the health and safety of its residents,
Address other issues meeting program funding criteria within the intent and policy of the program.
For more information or to schedule appointments contact Fred Meyer, housing services manager, at (813) 672-7860 or email rehab(at)flhome(dot)org.
Florida Home Partnership (FHP) is a non-profit Community Housing Development Organization (CHDO) that offers affordable homeownership opportunities to low and moderate-income first-time homebuyers. Utilizing the USDA Mutual Self-Help Housing Program (SHOP), the government program began over 40 years ago, and mirrors the "barn raisings" of the Quakers with neighbors helping neighbors to build their homes together. FHP also receives funding from the Housing Assistance Council (HAC), County and State programs. FHP provides participants with guidance and tools. No construction experience is necessary. This program is ideal for families with limited income who desire homeownership in rural communities. FHP is an equal opportunity provider and employer. For more information about the program, call 813-672-7860 or visit http://www.flhome.org, friend us at http://www.facebook.com/Floridahome, follow us at @flhome1.