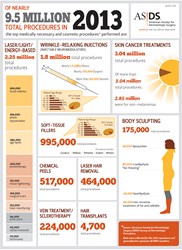 Rolling Meadows, Illinois (PRWEB) February 10, 2014
Dermatologic surgeons performed nearly 22 percent more medically necessary and cosmetic procedures in 2013 than the previous year, according to statistics released today by the American Society for Dermatologic Surgery.
ASDS members performed 9.5 million treatments, up from nearly 8 million in 2012. Increases were seen across the board in all categories, including skin cancer treatments and a wide range of cosmetic procedures.
Skin cancer once again topped the list of procedures, reflecting continued concern for and awareness of this disease. ASDS members performed 3.04 million skin cancer treatments in 2013, up 13 percent over 2012.
In increasing numbers, patients also continued to see dermatologic surgeons for a wide range of cosmetic procedures.
"We're not surprised to see such a jump. From medical procedures to treat skin cancers to cosmetic procedures, patients trust dermatologic surgeons with the health, function and beauty of their skin," said ASDS President Mitchel P. Goldman, M.D. "While we know our numbers are up significantly this year in part because our membership has grown, the survey shows patients also continue to specifically seek out dermatologic surgeons for treatments. Consumers trust the expertise of ASDS members, our unique training and our wide-ranging experience with the best techniques and latest technologies."
The top cosmetic treatments for 2013 are:

Laser/light/energy-based procedures: 2.25 million, up 34 percent over 2012
Wrinkle-relaxing injections (such as Botox): 1.8 million, up 20 percent
Soft-tissue fillers (such as Juvederm): 995,000 procedures, up 8.6 percent
Procedures showing big increases include a number of specific laser/light/energy-based treatments, including laser resurfacing (up 85 percent); surgical scar removal (up 79 percent); tissue tightening (up 75 percent); and tattoo removal (up 52 percent).
Vein treatment/sclerotherapy procedures jumped 53 percent as patients continue to recognize both the medical and cosmetic benefits of the treatments.
"Our members offer a wide range of minimally invasive procedures. Patients know they'll look rejuvenated and refreshed. They trust dermatologic surgeons with the overall health and beauty of their skin," Goldman said.
In a new ASDS consumer cosmetic survey conducted last year, respondents indicated excess weight is their top cosmetic concern. More than half also said they are bothered by wrinkles around the eyes, skin texture and/or discoloration, and sagging skin, according to the ASDS Consumer Survey on Cosmetic Dermatologic Procedures.
The 2013 ASDS Survey on Dermatologic Procedures reflects these consumer concerns, Goldman said, as the treatments showing the largest rates of increase address those issues. Body sculpting techniques saw a nearly 22 percent increase. Cryolipolysis, commonly known as "fat-freezing," comprised more than half of these procedures. Laserlipolysis – which delivers low-level laser energy under the skin to break up fat cells – jumped 47 percent in one year. Wrinkles, skin texture and sagging skin can be treated with wrinkle-relaxing injections, soft-tissue fillers and laser/light/energy-based treatments.
Laser hair removal notched a nearly 46 percent increase as patients – ever mindful of safety and the level of expertise of their practitioners – chose ASDS member dermatologists for this procedure.
As the incidence of skin cancer continues to rise, dermatologic surgeons continue to demonstrate their commitment to skin cancer awareness and prevention as well as their expertise in diagnosis and treatment.
Of the 3.04 million skin cancer treatments performed by ASDS members in 2013, nearly 190,000 were for melanoma, a 27 percent increase over 2012. Treatments for non-melanoma increased 12 percent.
"People are increasingly aware of the need to have any new or suspicious lesions checked out," said Goldman. "We're heartened to know we've been able to treat millions of patients to minimize the life-threatening and disfiguring effects of the disease. ASDS members continue to stress the benefits of screenings in addition to education of physicians about recognizing skin cancers and when to refer cases to a dermatologic surgeon."
About the Society's Procedural Survey Statistics:
The 2013 ASDS Survey on Dermatologic Procedures was conducted Jan. 2 to 24, 2014, for data reported in 2013. Data were collected for the 2013 experience and generalized to represent all ASDS members. The survey link was sent to 3,926 practicing members. Survey results are reported based on 943 physicians, or a 24 percent response rate.
About ASDS:
The American Society for Dermatologic Surgery (ASDS) is the largest specialty organization exclusively representing dermatologic surgeons who have unique training and experience to treat the health, function and beauty of your skin. ASDS members are pioneers in the field. Many are involved in the clinical studies that bring popular treatments to revitalize skin and fill and diminish wrinkles to the forefront. Their work has helped create and enhance many of the devices that remove blemishes, hair and fat, and tighten skin. Dermatologic surgeons also are experts in skin cancer prevention, detection and treatment. As the incidence of skin cancer rises, dermatologic surgeons are committed to taking steps to minimize the life-threatening effects of this disease. For more information, visit http://www.asds.net.