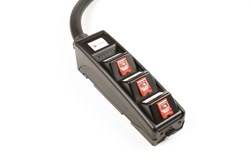 Watertown, CT (PRWEB) February 10, 2014
Siemon, a leading global network infrastructure specialist, has launched the Surface Pack™ Box. Designed for high density work areas that require rapid deployment of cabling systems, the new Surface Pack Box is available in compact 3-port and 6-port versions and supports category 5e, 6, 6A and 7A installations.
In common with a Grid Outlet Position (GOP) box, the Surface Pack Box will typically be deployed in buildings with a raised floor system, such as in call centers and trading floors. Designed for use with or without flexible plastic conduit, cables can be routed and secured via a strain relief point within the box and terminated to the outlets. The Surface Pack Box can be pre-terminated with chosen outlets and ready for rapid deployment once construction is finalized. Siemon MAX®, Z-MAX® and TERA® outlets are all supported by Surface Pack Box, affording a choice of unshielded or screened systems for performance from category 5e to 7A.
"The Surface Pack Box has been designed specifically to support rapid project rollout and high density demands," explained Siemon product manager, Brian McCaffrey. "It brings great advantages in its design and construction and accommodates deployment of a wide range of cabling systems. It provides a great return on investment, thanks not only to its speed and ease of use, but also its durability."
Two mounting options are available for the Surface Pack Box; mounting directly to the work area surface, or by means of a bracket that can be pre-mounted to a fixed location, allowing the enclosure to be clipped into place via a one-touch latch. Whether direct mounted or using the bracket, cables are secured by a sturdy tie-down point inside the box, ensuring proper strain relief.
The Surface Pack Box design presents the ports at an angle on the face of the Surface Pack Box to optimize space usage and allow patch cords to be neatly dressed at a low profile, while still affording easy access to terminations. Ample labeling is provided for both the box and the ports, with blanks available for port count variants to accommodate future expansion.
For further information visit http://www.siemon.com/surfacepack.
###
About Siemon
Established in 1903, Siemon is an industry leader specializing in the design and manufacture of high quality, high performance low voltage infrastructure solutions and services for Data Centers, LANs and Intelligent Buildings. Headquartered in Connecticut, USA, with global sales, technical and logistics expertise spanning over 100 countries, Siemon offers the most comprehensive suite of copper and optical fiber cabling systems, cabinets, racks, cable management, data center power and cooling systems and Intelligent Infrastructure Management solutions. With over 400 patents specific to structured cabling, Siemon Labs invests heavily in R&D and the development of Industry Standards, underlining the company's long-standing commitment to its customers and the industry.