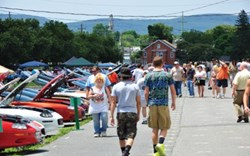 Frederick, MD (PRWEB) February 09, 2014
The American Camaro Association, in conjunction with the Maryland Camaro Club, announces that the 16th Annual Camaro Nationals will again be held at the Frederick Fairgrounds Eventplex, in Frederick, Maryland. The event will take place June 20 & 21, 2014, and draws over four hundred Chevrolet Camaros annually, from over 30 States and Canada.
The Event
The Camaro Nationals is one of the few Camaro events that offers participants and spectators a vast array of vehicles from daily drivers to rare Concurs restored Camaros, that rarely see the outside of a garage or museum. Registrants are offered several judging levels, as well as non-judged classes. The Camaros are displayed in both outdoor classes and indoor areas. It is not uncommon to see perfectly restored cars, untouched original examples, and highly modified models of the same year, all within a short walking distance of each other. Indoor and outdoor vendors, along with food vendors, round out the show field.
The Location
"This will be the 4th consecutive year we have chosen the Frederick Maryland Fairgrounds as the show location," said Event Chairman Bud Scolastico. "Everyone in the city – from the Mayor - to the shops and restaurants, have been very welcoming to our participants over the last few years, and we were eager to return for even more of their hospitality." The Eventplex offers grass parking areas adjacent to paved roads for the Non-Judged and 200 point judged cars; and huge buildings to house the 1000 point judged and Concours judged cars.
The Car
The Camaro was released in 1967 to great success during the "Pony Car Wars", and remains a top choice for enthusiasts even today. The Camaro has been an American favorite from the start, and boasts a great history in road racing, drag racing, the International Race of Champions, and of course its many times pacing the Indianapolis 500. Chevrolet has been true to their original plan…keeping the Camaro a great handling, two door, rear wheel drive car throughout its 47 year history.
The Organizations
The American Camaro Association, Inc. was formed to support the portion of the automotive hobby based on the Chevrolet Camaro….having three main goals:
First, is to help create and maintain a dialog between Camaro Clubs Nationwide.
Second, is to maintain and update a list of Camaro Clubs across the country, which enthusiasts can access in order to find local support.
Third, is to support the ongoing Camaro Nationals and to maintain the multi-level Camaro judging system used at the Nationals.
The Maryland Camaro Club Inc. – the largest in Maryland – was formed in 1986, and has been hosting this event for over 10 years. The club has the support of over 130 members, and handles all the set-up, staffing, and logistics involved in the event; in addition supplying many of the judges.
For more information, please visit americancamaro.org or mdcamaroclub.com.