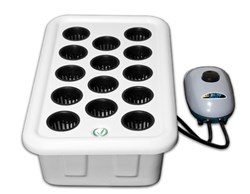 San Francisco, CA (PRWEB) February 07, 2014
The SuperCloner-14 is designed as a fully automated fourteen site hydroponic system cloner that will maximize germination and cloning and guarantee success rates for up to 14 seeds or clones. The SuperCloner-14 is made of food grade white plastic that is durable and easy to clean. Also included in the design is the Eco-2 air pump and air stones for fruitful bubbleponics hydroponic success. The goal of the SuperCloner-14 is to promote rapid, lush white root development.
The SuperCloner-14 truly takes the guesswork out of growing. The ideal indoor gardening environment is found inside this hydroponic cloner, in which every key detail has been considered and incorporated into the professional design. All the indoor grower has to do is change and refill the reservoir every 7-10 days, add nutrients adjust the ph and maintain a conducive temperature and humidity and plants will achieve their growing potential.
For pictures and information, please go to http://supercloset.com/product/systems-supplies/supercloner-14-hydroponic-cloner/.
About SuperCloset:
SuperCloset products are perfect for the novice hobbyist through master grower as every imaginable high quality component comes with the grow boxes and hydroponics systems. Because of the excellent layout design and support material included with each system, most SuperCloset customers are up and growing within 90 minutes of receiving their product. SuperCloset takes the guesswork out of growing so their customers can focus on the fun and not the fabrication of indoor gardening systems.