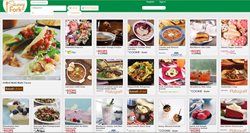 The partnering process is streamlined... you can start uploading recipes immediately.
New York City, NY (PRWEB) February 26, 2014
June Media's visual recipe search site, SavvyFork, has undergone a series of partner-focused refinements. The focus of the updates is to make brand growth and exposure even easier for food bloggers and brands who use the site.
"From SavvyFork's inception, we have been focused on extending blog and advertiser brands in a way never before seen in the food space. SavvyFork's most recent updates continue the site's innovation," says William Grant, Chief Technology Officer of June Media.
While most regular users of SavvyFork may not notice the partner changes when browsing the elegant and delicious recipes on the site, food bloggers and content sponsors certainly will.
"The partnering process is streamlined, and once our team approves your account, you can start uploading recipes immediately. Plus, our new photo-cropping tool allows you to be in control of what our readers see," says Dan Kamys, editor of SavvyFork.
SavvyFork's new photo cropping tool allows partners to zoom, crop, and position the pictures of their flavorful creations exactly to their liking. Once uploaded, the pictures will also be automatically compressed.
With SavvyFork's latest updates, it makes it even easier for newbie, up and coming, and master food bloggers to join the site. Bloggers already at the "cool table" include: Steamy Kitchen, The Grant Life, Garnish with Lemon, From the Kitchen of Mama Harris, and Cookie and Kate.
Advertisers also benefit from the SavvyFork updates, as content sponsorship becomes easier than ever and recipes can be uploaded by the advertisers themselves. As a special welcome to new clients, SavvyFork is giving away three free branded recipes per advertiser. Those interested in a trial can sign up as a partner on the Partner Registration Page of SavvyFork.
SavvyFork users will also notice a refinement of the site's rating system and an additional way to sort their favorite recipes on the homepage, by basing the sort off the editor's rating.
As part of the celebration, SavvyFork is giving away a $200 Le Creuset French oven. Those interested in signing up can do so by going to http://www.SavvyFork.com/giveaway. Entrants will also be signed up for SavvyFork's bi-weekly newsletter, The Feed, which compiles the freshest and most delicious content from the site.
About June Media
June Media, Inc. is a privately held company with offices in both New York and Chicago. June Media is a leading content provider for women with a mission to inspire, entertain and empower women of all ages through informative editorial content, targeted newsletters and an engaged community.
For more information, please visit http://www.junemedia.com.