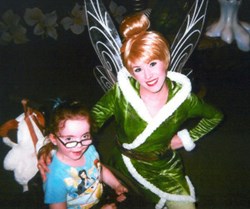 "I think Dakota's wish will help her get through this upcoming surgery," says Deaton.
Mobile, AL (PRWEB) February 07, 2014
Facing major surgery in a few weeks to disconnect nerves in her back, 5-year-old Dakota Burford of Mobile, AL distracts herself by talking about her magical wish granted by Kids Wish Network. Kids Wish Network is a Florida-based charitable organization dedicated to infusing hope, creating happy memories, and improving the quality of life for children having experienced life-altering situations.
Born three months premature with holes in her brain, little Dakota has been a fighter since day one. The sweet and loving child doesn't let her life-threatening diagnosis of cerebral palsy get her down. She loves to play games and tell stories, always wishing that Peter Pan could come visit her. Thanks to Kids Wish Network and generous donors, Dakota can now say that one of her dreams did come true.
The international children's charity recently granted Dakota's wish to visit the most magical place on earth, Disney World. The all-expense paid trip included Dakota's first ride on an airplane, a stay at the fabulous Hilton Garden Inn, dinner every night and tickets to Disney Theme Parks.
"The show at Cinderella's Castle was definitely her favorite part," says Dakota's mother, Stephanie Deaton. "She calls it the castle party. Her dad said he'll never forget that look on her face when Peter Pan came running out; it was amazing."
While at the Magic Kingdom, Dakota met Mickey and Minnie Mouse as well as Tinkerbell. Wearing a shirt with the fairy's likeness, Tink mentioned 'that's me on your shirt' to Dakota. She also visited Hollywood Studios and Epcot where she enjoyed the Finding Nemo ride. Deaton notes that 'everything was wonderful' and mentions the staff at Red Lobster and the Cheesecake Factory went above and beyond to make Dakota feel special.
"I think Dakota's wish will help her get through this upcoming surgery," says Deaton. "When she's going through a rough part of recovery, reminding her of all the fun things she did on the trip can help ease her mind."
Kids Wish Network would like to thank all the generous sponsors that helped Dakota find some magic: Compassion Partners, Hilton Garden Inn, Thrifty/Dollar Rent A Car, WonderWorks, Red Lobster, and the Cheesecake Factory.
Visit http://www.kidswishnetwork.org for more information and to see updates on Dakota's recovery. You can leave her a message of hope for her upcoming surgery here: http://kidswishnetwork.org/2013/11/dakota-met-mickey-minnie-and-tinkerbell-at-disney-world/.