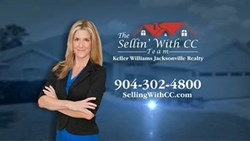 Jacksonville, FL (PRWEB) February 10, 2014
If last Sunday's Super Bowl between Denver and Seattle was too painful to watch, the Fox Network's Jacksonville affiliate did have a few bright spots: The network aired two new commercials from the Sellin' With CC Team of Keller Williams Jacksonville Realty featuring team leader CC Underwood.
The ads were produced and aired by Action News Jax, Jacksonville's local FOX station, and began airing around 11:00 on Sunday, prior to the start of the big game. The ads were geared towards those in the Jacksonville area who are both looking to buy and sell a home. These were not the first television spots for Underwood and her team; in September, the team aired two previous commercials spreading the word on her "Guaranteed Sale" program and the Home for Heroes organization, which donates a portion of an agent's commission back to a home buyer or seller who qualifies for the program.
The Sellin' With CC Team looks to make 2014 a banner year for the team and surpass its successes of 2013 by growing in terms of both team size and increased revenue. With the outlook for the 2014 housing market looking positive, the chances for this occurring are promising.
To find out more about Underwood and the Sellin' With CC Team, you can visit them on Facebook or on their homepage. To learn more about the Homes for Heroes affiliate program and how you could qualify for savings on closing costs, you can also visit their site.