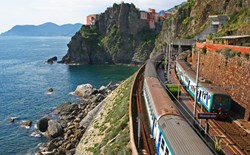 There's something about the sound of a train that's very romantic and nostalgic and hopeful. - Paul Simon
Somerville, MA (PRWEB) February 10, 2014
"There's something about the sound of a train that's very romantic and nostalgic and hopeful," said world renowned musician Paul Simon. ItaliaRail agrees, and since romance is in the air this month, we're offering up three enchanting rail destinations sure to inspire Amore.
1. Charming Cinque Terre
The five idyllic villages that make up the area known as Cinque Terre – Monterosso al Mare, Vernazza, Corniglia, Manarola, and Riomaggiore, are spread over the northeastern mountains of Italy, overlooking the cerulean waters of the Mediterranean Sea. With steep, winding staircases and secret paths that lead to heavenly views, Cinque Terre is a paramour's paradise. Lover's Lane or Via dell'Amore, between Riomaggiore and Manarola, is a short 30-minute walk along a wooden bridge path right on the ocean. If you choose to venture farther, the Cinque Terre National Park offers longer hiking paths between each town. Stop along the way to enjoy a glass of wine and a delicious meal at any of the quaint seaside cafes. If you don't want to hike the whole way, hop on the regional train that travels between, and stops in each village.
By Train : From Rome, take the high­speed train to La Spezia, about a 3 1⁄2 hour trip with fares starting at $27. From Florence, regional trains run to La Spezia, which take about 2 1⁄2 hours. From La Spezia, take the regional train to any of the towns of Cinque Terre. This trip is about 10 – 20 minutes depending on which town you stay in and the fare is only $3 - $5.
2. Heavenly Fiesole
Five miles northeast of Florence, sits the dreamy town of Fiesole. It's the perfect romantic day trip from Florence by train or bike. In ancient times, Fiesole was the center of a school for priests, or augurs, who relied on signs from nature to forecast intentions from the heavens. This was the start of a strong religious tradition in Fiesole evident today by the many monasteries, churches and cathedrals that inhabit the town. Fiesole is also home to the Bandini Museum, which boasts an impressive collection of religious artifacts dating back to the 12th century. Spend the day wandering through these hallowed, theistic monuments and museums, then enjoy a divine Italian lunch in an intimate ristorante overlooking the spectacular city of Florence.
By Train : From Rome or Venice take the high­speed train to Florence with fares starting at $27. From Florence you can take a regional train to Fiesole. It's a ten to twelve minute
ride and costs only $3.
3. Romantic Emilia-Romagna
There's nothing more romantic than staying in a castle for a night or two, and from Bologna you can venture out by regional train to the Emilia-Romagna area, which is chock­full of castelli to choose from. Dating back centuries, many of these regal manors have been converted into hotels that include five-star restaurants and spas. Spend the day touring the Castelli del Ducato di Parma e Piacenza (castles of Parma and Piacenza). Start with the Castle of Torrechiara, in Parma, built between 1448 –1460. Here you can get a tourist map that provides information on the 19 castles in the area - what to see and how to get to them. At night, enjoy a delicious Italian meal fit for a king or queen and then settle in for a royal slumber in your very own castle.
By Train: Take a high­speed train from Rome to Bologna and be there in just over two hours. Fares begin at $27. From Bologna take a regional train to the city or town of your choice.
About ItaliaRail: ItaliaRail are the experts on Italy train tickets and passes. In cooperation with Trenitalia, Italy's only national railway, ItaliaRail provides a direct connection to Trenitalia's reservation system allowing rail travelers access to the most routes at the best prices. Travelers are able to book in multiple currencies and knowledgeable customer service agents are available to answer questions and give advice on train travel throughout Italy. ItaliaRail was launched in 2005 and is a division of International Rail, LLC.