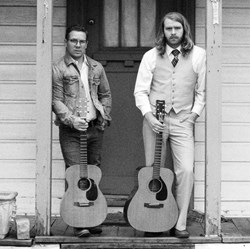 the album is a blend of rough and dirty sounds of early Western music with the pure bright harmonies of folk music.
Los Angeles, CA (PRWEB) February 11, 2014
The debut album from folk duo Midas Whale of The Voice is now available on iTunes and all major music sites. Titled Sugar House, the album is a blend of rough and dirty sounds of early Western music with the pure bright harmonies of folk music. The 12 original songs were written and arranged by Ryan Hayes and Jon Peter Lewis.
Midas Whale was introduced to the nation on season four of The Voice. Following the duo's rousing performances on the show, Lewis and Hayes turned to their enthusiastic fans via Kickstarter to help fund their debut album. Those followers responded eagerly to the quirky campaign and the project was successfully funded in just three weeks.
"We have our awesome fans to thank for making this record possible," says Lewis. "They jumped on board to help us and went way beyond our expectations."
"It takes more than passion and hard work to produce an album," adds Hayes. "But thanks to our dedicated backers we were able meet the challenge and release an album that we are very proud of."
The the self-released record was produced by Stuart Maxfield and is Midas Whale' s first full-length album.
About Midas Whale
Musicians Jon Peter Lewis and Ryan Hayes met in 2009 during an open mic night in Rexburg, Idaho. They quickly became friends and went on to collaborate, producing a folk-rock opera in 2010 titled Deep Love: A Ghostly Folk Opera. The show's beginnings were humble--jamming in Jon's living room--but the first stage performance opened to packed theaters. Deep Love has grown into an annual, multi-city theatrical production garnering overwhelming support and praise. Looking for more opportunities to perform together, in 2012 Lewis and Hayes formed the folk duo Midas Whale and auditioned for The Voice.
The duo's energetic folk version of "Folsom Prison Blues" on The Voice prompted the coveted four-chair turn by all coaches: Adam Levine, Usher, Blake Shelton, and Shakira. Adam praised the "charismatic" duo saying, "You guys are perhaps one of the more charming, talented duos I've ever seen perform. That's the truth." Blake and Shakira admired their superb harmonies and Usher hailed them as "hilarious, but equally talented."
Following Midas Whale's performances on The Voice, the duo toured the country and released their debut album, Sugar House, on Feb. 11th 2014.
Press Kit: http://www.sonicbids.com/band/midaswhale
Website: http://www.midaswhale.com
Facebook: facebook.com/MidasWhale
Twitter: twitter.com/MidasWhale
Contact: Judy Lieber judylieber(at)gmail(dot)com